Audio Systems, Audio Setups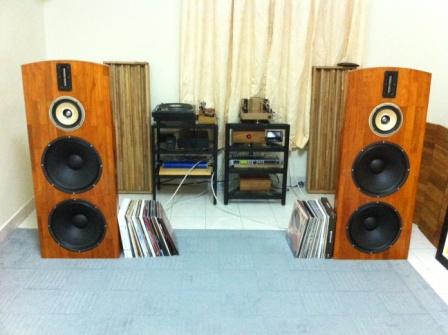 Note: thanks to brother CS to provide the above picture.
Welcome to the Audio Systems page! This section talks about:
Audio setups
HIFI Shows
HIFI Demos
HIFI gathering
Listening sessions
Or other topics that do not fit into other categories.
You are very welcome to post your experiences with us. Just drop us an email and send your articles, photos, setups, systems, opinions, and etc to us at the Contact Us page.
Please do remember to request for permission if the materials or systems are not your own or original. We respect Copyright laws and reserve the rights to decline the publications.
I'm very fortunate to have a bunch of HIFI enthusiasts with a much diversified systems at their homes. Their names have been abbreviated to protect privacy.
D-man – HIFI frontier and expert optimizer. He is always the first to know about new audio gadgets, HIFI trends, tweaks and good deals. He is never afraid of trying new and strange things. His gears are always modded and optimized for absolute performance. I learnt a lot of things from him and I really respect his audio / HIFI spirit to squeeze the maximum performance out of his system. I love his setup!

AdC – 'kangtao king' in the group, a rocker and a guitarist too! Everything is 'can do'. He owns a machining factory and I always bug him for favors on my hardware for amplifiers. He is more of a rock music lover than a HIFI enthusiast. He is a lucky guy too where his dad gave him a pair of NOS vintage Coral coaxial speaker driver. I wish I can own such a pair of gem since I'm a coaxial speaker enthusiast.

CS – HIFI sprinter! You can never imagine how fast he picks up new knowledge in audio equipment and setup skills. He is a man of taste and not afraid to splash on something he believes in. Now he owns a very nice Open Baffle setup with active crossover and vintage tube amplifier.

CF – classical music expert! His passion for classical music is just limitless. If he claims that he is number 2, nobody dares to claim number 1! His knowledge in classical music has no boundary! He has a huge collection of Japanese pressed classical library too. His setup is pretty unique too. He uses 2A3 single ended triode amplifier to drive a pair of Audio Physic floor stander speaker.

Lee – full range single driver enthusiast! We've listened to many types of high efficiency speakers with full range single driver thanks to him. He has good linkages with Chinese manufacturers where he sometimes imports a lot of tube amplifiers, speakers, speaker enclosures (very nice finishing), speaker cables and etc.

TLK – vintage speaker lover though he only owns a pair of Isophon FSB3001 (FSB20/8)! He is very passionate with his Isophon speakers and much bewitched by the vintage tonality thereof. He uses the very famous 0.75wpc rated Darling (1626 triode tube amplifier) amplifier in is setup. His system is one of the warmest I've listened too and that was based on the older setup he had when he was using World Audio Design PSE5881/6L6 tube amplifier and Coral Flat 8A in open baffle configuration and back loaded horns. Things have evolved a lot since then and I've been looking forward to visit him again.

EH – Tannoy enthusiast! He owns a pair of Tannoy 15 inch driver (DCC 3839) housed in a pair of huge back loaded horn enclosure, driven by AudioSpace KT88 amplifier. He has a pair of good ears and is an experience listener as well. Too bad he has moved to work in China.

UV – a very friendly and warm subwoofer enthusiast! You can never imagine how many subwoofers he has in his setup! He's my tour guide whenever I drop by Kuala Lumpur for HIFI visits. He has some very special tweaks in his setup too. One has to see it to appreciate what he has done. Although his setup is all solid state, the vocal is quite thick and warm compared to solid state amplifiers.

WKT– I really do not know how to describe this guy. OB expert, DIY expert, tweaker expert, modding expert, listening expert (he has a pair of golden ears!), setup expert! You owe it to yourself not to visit him if you're in Kuala Lumpur. I wish I have taken some pictures of his setup to share with you all. You will be amazed! If I were to write about his setup, I would have to separate it into a few pages!

JK – respected Rogers LS3/5A guru! He needs no introduction. I've known him since year 2000 when I was still working in Taiwan. Man, that's a lot of years! I've not visited his setup for quite some time but I always bump into him in HIFI shows, and even in Singapore HIFI show 2 years ago! His setup has evolved a lot since then but it was the most accurate system I've listened in my life! Hope I've the time to do coverage on him and his setup in near future.
---
Friends' Audio Systems
---
Return from Audio Systems to DIY Audio Guide
---