CF Audio System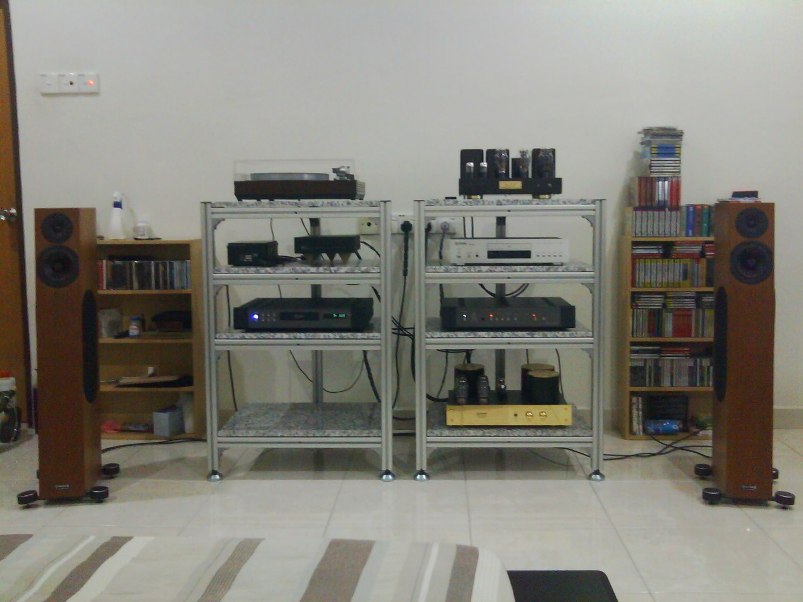 Let's have a look at CF audio system for this round! CF works in a multi-national corporation that specializes in audio video systems. (Editor: how I wish I'm in his shoes!) Damien and I had a chance to visit CF quite some time ago and we really love his setup. The Audio Physic speakers are surprisingly tube friendly.
This is the updated CF audio system information in 2011 – such a neat and tidy system!
Source – Krell KAV-250CD, Jolida JD100, Linn Sondek LP12
Amplification – Krell KAV-300i, Clone SunAudio SV-2A3, Jolida JD801A
Phono – Pipit II
Speaker – Audio Physic Tempo IV
Shelf – DIY shelves using 40mm x 40mm aluminum profile with stone slabs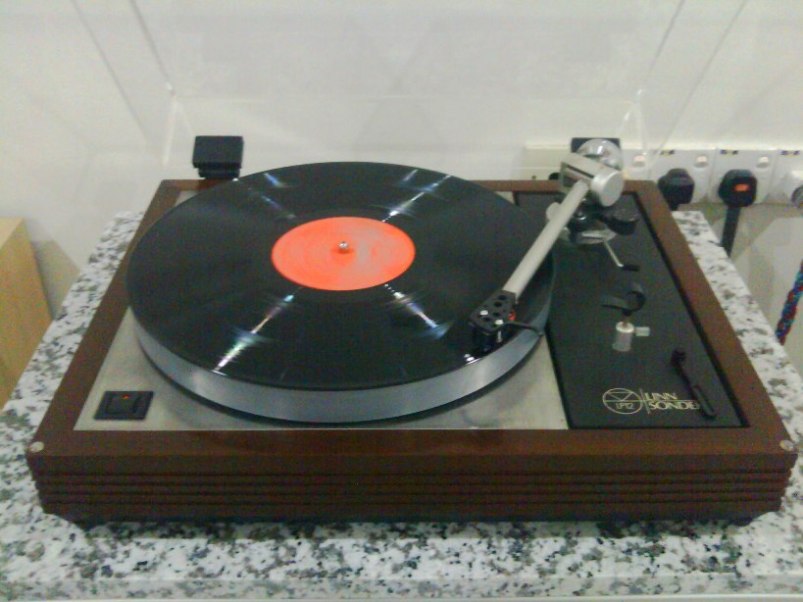 The Linn Sondek LP12 is in a very good condition. Almost all the parts are original. The phono output cable and AC cable are still original!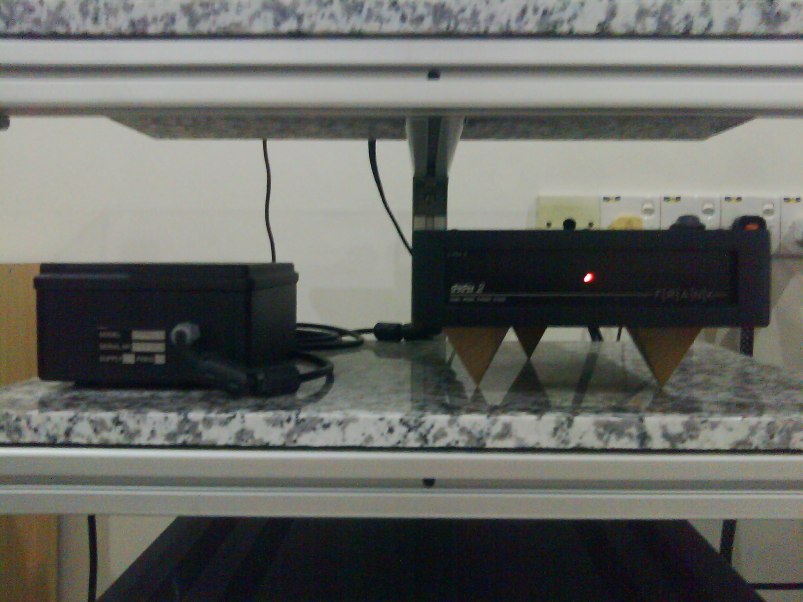 Pipit II phono stage – tweaked with 3 wood cones.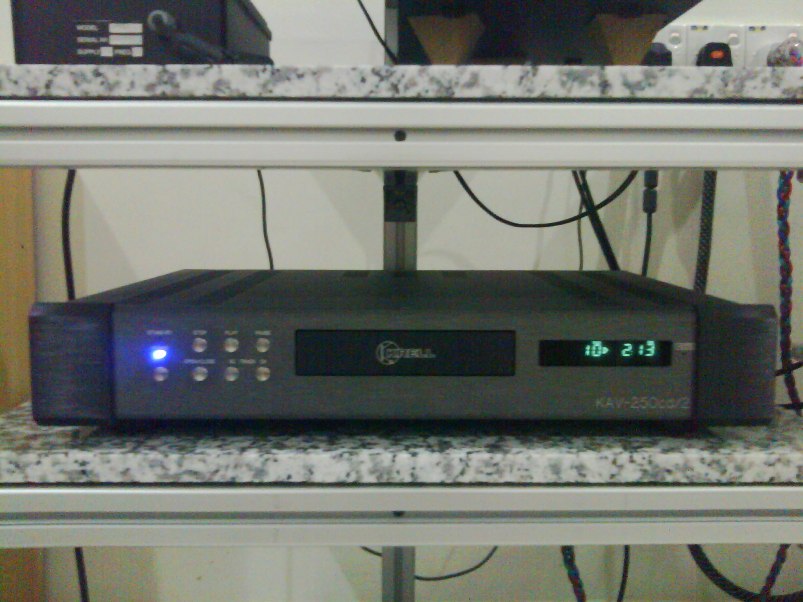 Krell KAV-250CD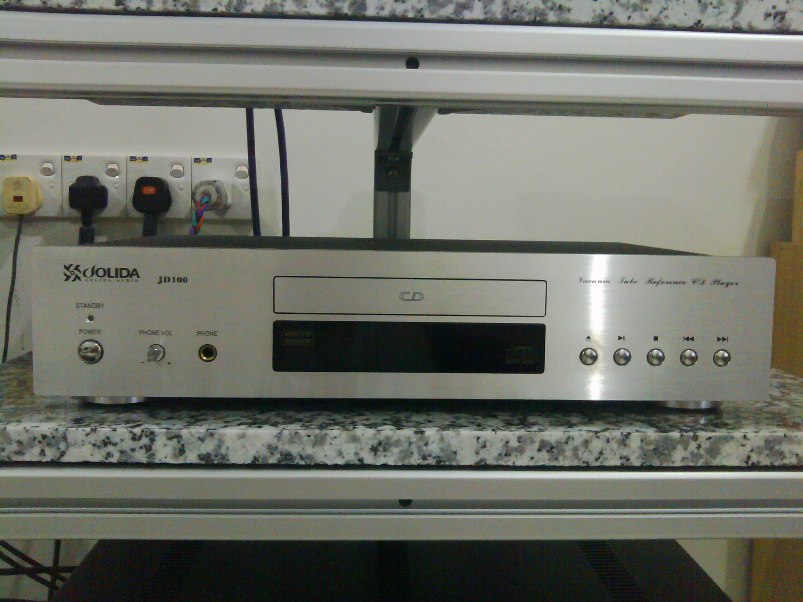 Jolida JD100 tube CD player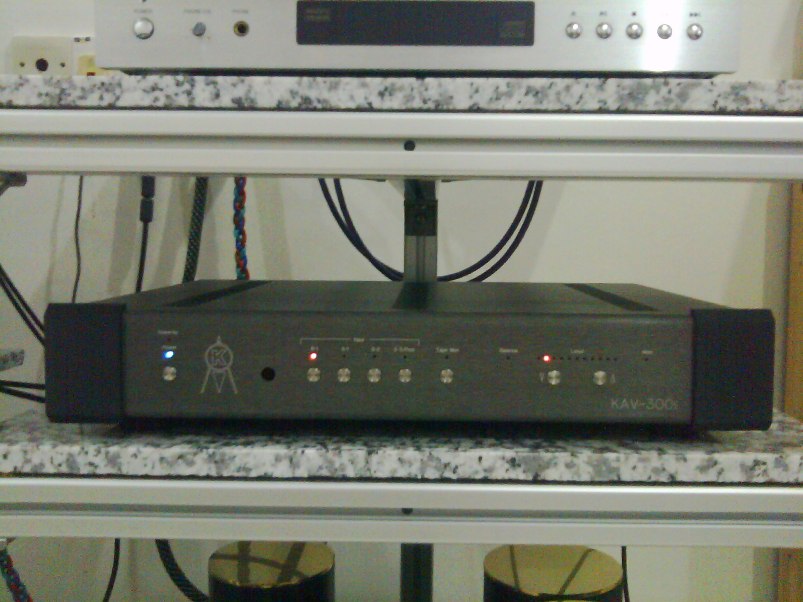 Krell KAV-300i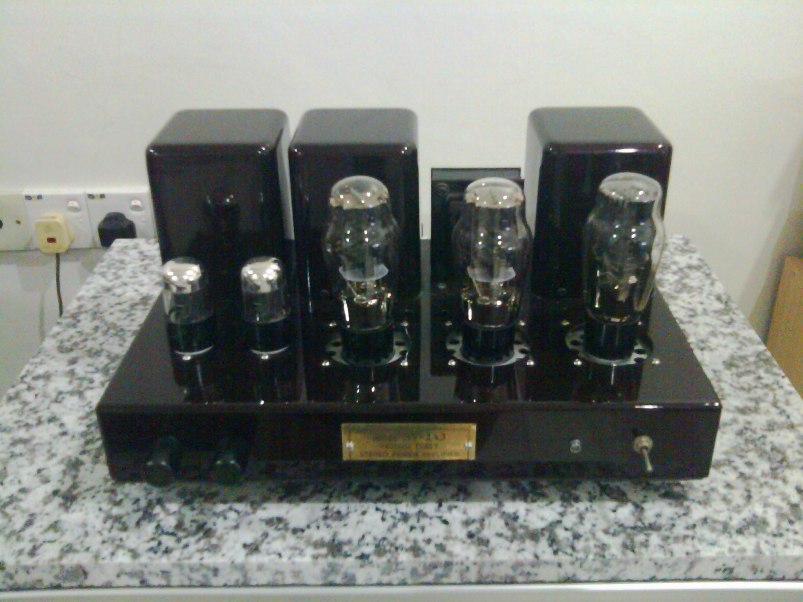 Clone SunAudio SV-2A3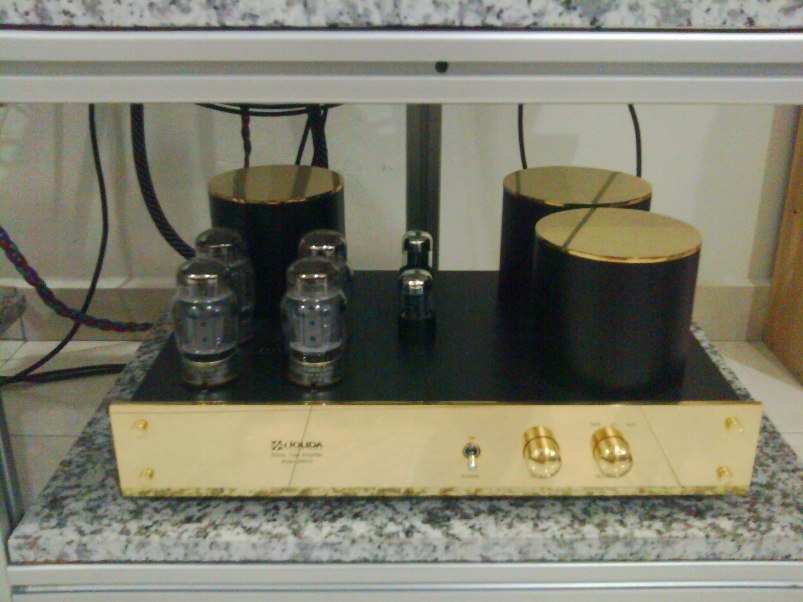 Jolida JD801A amplifier
Why does CF have 3 amplifiers? Answer: for different type of music!
The three amplifiers have different sonic signatures and are suited to different type of music. Since CF listen to quite a number of types of music, this is the best case for him.
Clone SV-2A3 is strong for vocal, good clarity and detail, and warm sounding.
KAV-300i is good for orchestra pieces especially like Mahler and Bruckner Symphonies (need current and power), Stravinsky, Mussorgsky and other Russian musicians' pieces (need speed and control).
JD801A just is in between SV-2A3 and KAV-300i, just like EL34 compare to 300B and KT88, maybe.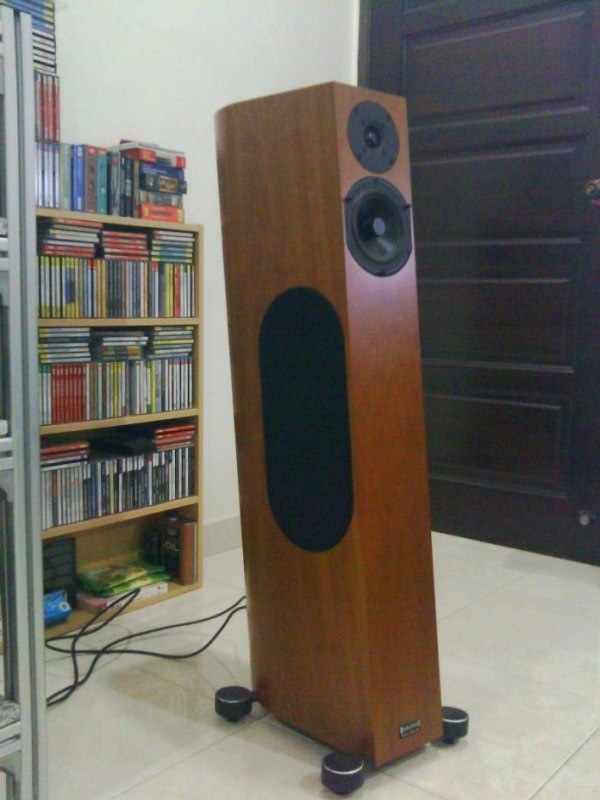 Audio Physic Tempo IV - The wooden cabinet of the Audio Physic Tempo IV sports a slant design for a better time alignment of the drivers and resides on massive spiked feet for great stability and decoupling from the floor. The Audio Physic Tempo VI can handle as much as 150W in 4 Ohms with 89dB sensitivity. Although it does not look very efficient on paper, the clone SV-2A3 could drive the Tempo IV to deafening level.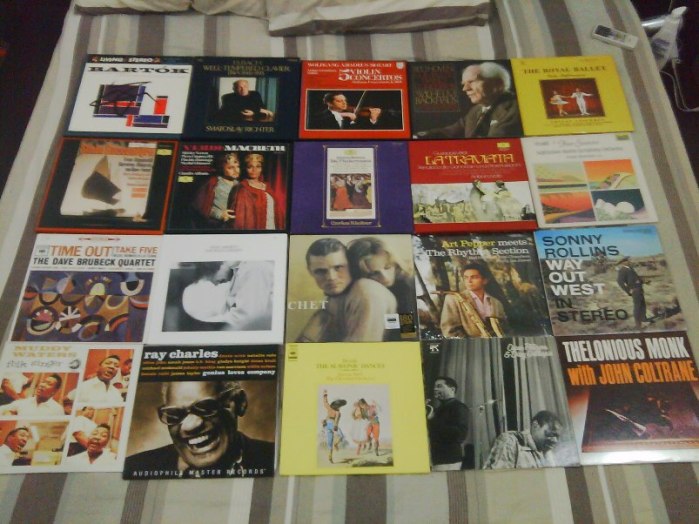 In the LP photo, you can find some unique albums here:
Richter's Bach Well-Tempered Clavier Book I & II (recorded for JVC and not the version that we could get easily from RCA).
Arthur Grumiaux complete Mozart Violin Concertos. It is the best or at least one of the best for 5 Violin Concertos. Some said: "Mozart violin concertos are too difficult for adult and too easy for children."
Wilhelm Backhaus complete Beethoven Piano Concertos. CF looked for years for the CD and finally got the LP in Japan.
Royal Ballet conducted by Ernest Ansermet. The CD in eBay could fetch over USD1000 easily. It is the first LP for CF and he got it from the LP12 seller in brand new condition. The music is fabulous.
2 great Verdi opera recordings by Claudio Abbado, Macbeth and Simon Boccanegra.
Carlos Kleiber's Johann Strauss II Die Fledemaus. The only one of his opera recordings CF has in LP. CF collected all his opera recordings in CD except Otello (still can't get it……)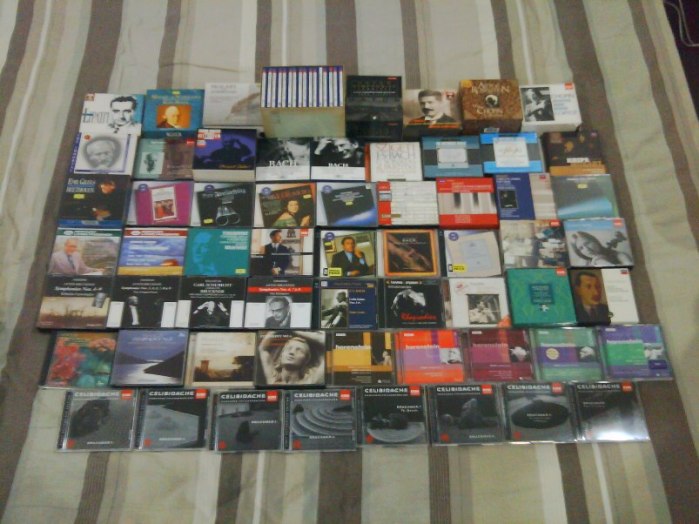 Inside the CD photo, you can find some unique albums too:
2 set Haydn complete symphonies (104 symphonies). One is from Antal Dorati (the first complete Haydn Symphonies recording in the world) and another one from Adam Fischer.
2 and half sets of Mozart complete Symphonies. Complete symphonies by Karl Bohm and Charles Markerras, 25 to 41 from Josef Krips (he never recorded them all).
Artur Schnabel's Complete Beethoven Piano Sonatas, the first complete Beethoven Piano Sonatas in the world.
Cortot's Chopin, Rubinstein Chopin, Horenstein's Mahler, Celibidache's Brucker, Furtwangler's Beethoven & Bruckner, Hanson conducts Hanson, Karajan plays Schoenberg, Webern and Berg in SHM-CD, all Carlos Kleiber CD by DG and Orfeo……
As you can see from the collection, CF is very knowledgeable on classical music! He also buys and reads magazines / books related to classical music, not captured here.
Alright, that's all for now for CF audio system. Hope you enjoy the read.
Ken 7/27/2011
What Other Visitors Have Said
Click below to see contributions from other visitors to this page...

Vintage Audio Gear Not rated yet
Hi Ken, I find little time to explain my system, it all started long ago, but I ended up after finding the basic parameters that lead to sound, high …
Vintage Audio Gears Not rated yet
My story is simple, doing 30 years ago and all is clear, live and work in Serbia, in the small town of Jagodina, with a few friends and some people around. …
---
Return from DIY Audio Guide / Audio Systems / CF Audio System to DIY Audio Guide / Audio Systems
Return from DIY Audio Guide / Audio Systems / CF Audio System to DIY Audio Guide
---