Lee Audio System, Audio Setup
Lee – an audiophile from Sungai Petani, Kedah. This is about Lee audio system, audio setup.
Lee is a high efficiency full range single driver speakers and vacuum tube amplifiers lover. Whenever we visit him, not only we can enjoy warm, coherent and sweet vocals, we are also always blessed with eye candies. Lee always has very nicely finished speakers. Just look at the laminations of the speaker cabinets, mirror finishes, solid hard wood speaker stand and the solid wood rack!
Lee has connections with HIFI equipment manufacturers in China and can always import good value for money HIFI equipment from there. D-man got some speaker cables (using Western Electric cloth covered wires) and tube amplifiers from China with his help too. Upon inspection of the "internal organs", the quality is considered very good, with all film caps as PSU and coupling.
That is really something quite rare even in the high end world. I listened to D-man's audio system many times and it never fails to impress me all the time.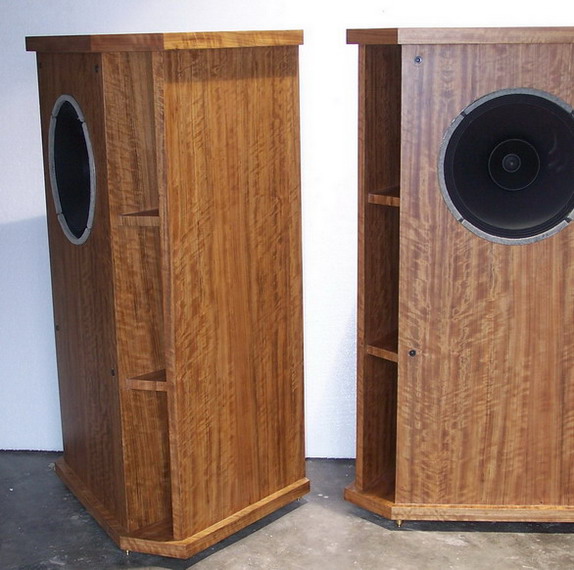 Attached is a Tannoy GRF (Guy R. Fountain) replica cabinet from Lee that can house a 15" speaker driver. It is very nice, isn't it? Lee's friend, the manufacturer was asking for RM1,500 few years ago if not mistaken when I was looking for cabinets to house my beloved Tannoy HPD385A speaker drivers. At the end, a DIYer from Kuala Lumpur helped me with the cabinet using marine plywood and real wood for the project. This project will be posted later, don't worry!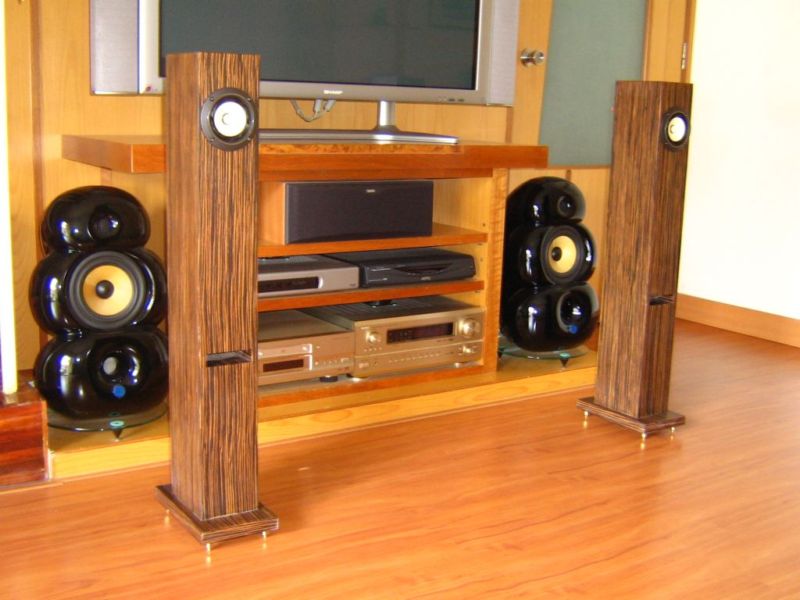 Tall, slim and sexy! This pair of nice looking speaker is the limited edition only available in Japan type of Fostex FE88ES-R. IMHO, it is one of the best drivers ever made by Fostex. D-man and I had the opportunity to listen to this pair of speakers during one of our trips to Sungai Petani.
Do not be fooled by the small size of the speaker driver. The can do really nice bass! Vocals and imaging are really the forte of this speaker. I can really live with a pair of this in my bedroom. I had the urge to get a pair myself too when I heard this pair of speakers.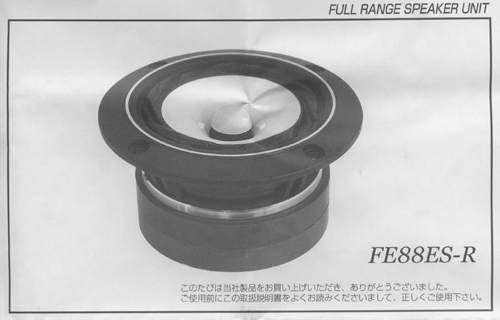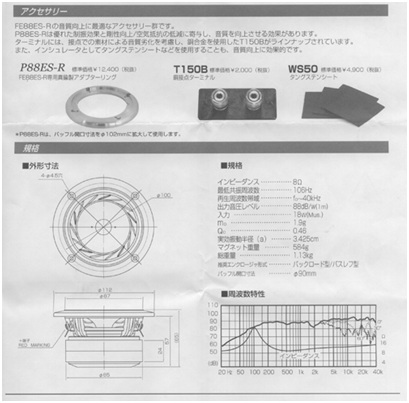 It would be nice if I can read Japanese. Do not be frightened by the lowish efficiency it has. It is actually not difficult to drive. Look at the ruler flat frequency response that extends to 40 kHz. Augmented with subwoofer(s) and you have yourself a nice pair of very high end audio system!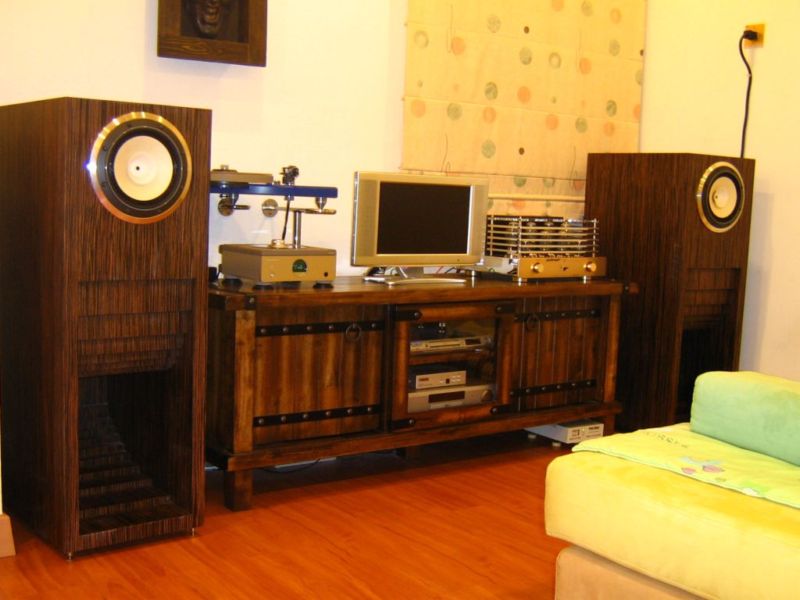 This is another pair of Fostex speakers Lee has. It uses Fostex FE208ES (not sure if it is the FE208ES-R) in a back loaded horn enclosure. Vocal is warm and nice but the bass still needs some tuning. According to Lee, he still has some issues on the bass loading of the horn and it is not easy to tune it right. A brief listening seconded the comment.
If you noticed, there are 2 sources on the HIFI rack. One is the Project LP player (if not mistaken) mounted on a wall mount rack! This is something new to me! I've never seen a wall mount before actually. The other source is the Rotel top loader CD player! Again, it is my first time seeing this too. Lee got a NOS unit a while back ago. It is such a sweetie!
On the other side is a KT88/EL34 push-pull tube amplifier from China. I'd already forgotten what make it is. It sounded promising and even much better after it is tweaked by the master DIYer, Kendo. :P The internal parts are upgraded with audiophile parts like BlackGate and Mundorf capacitors.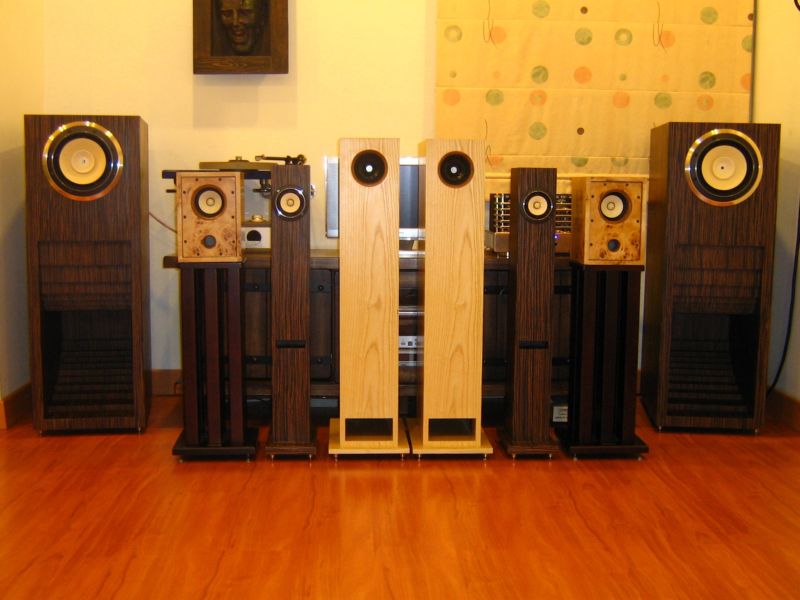 The full Monty of Lee audio system, audio setup! All the cute speakers at a glance! From the left, FE208ES, FE108ES / vintage full range driver, FE88ES-R, unknown full range speaker driver in transmission line enclosure from China or Taiwan.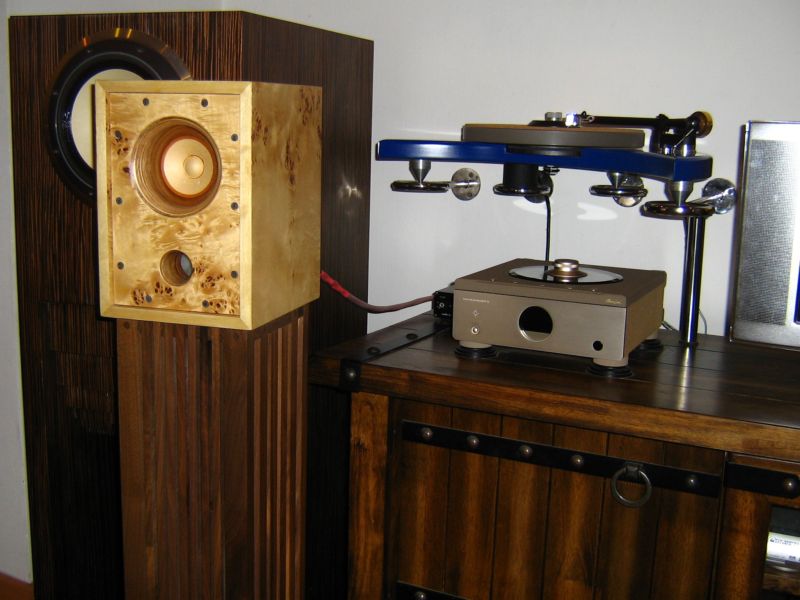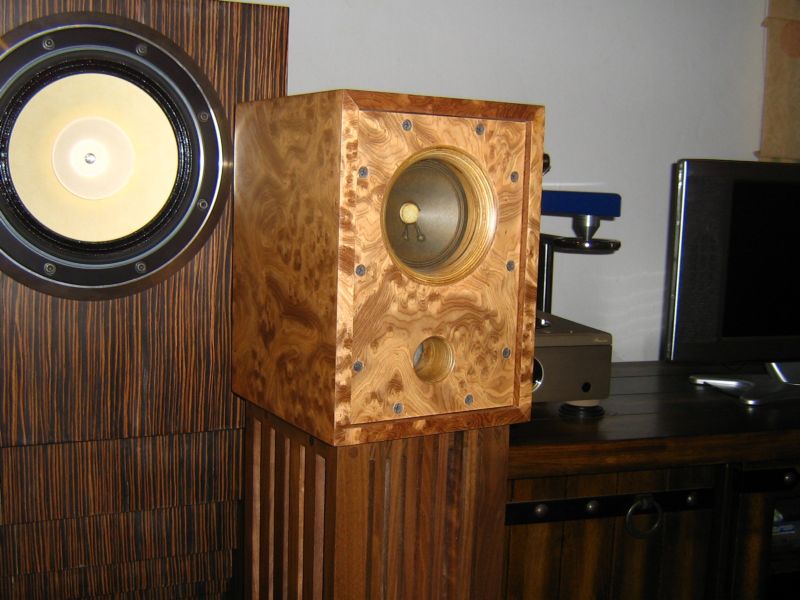 These are some other closer looks at the vintage full range speaker driver in very nice veneered cabinets.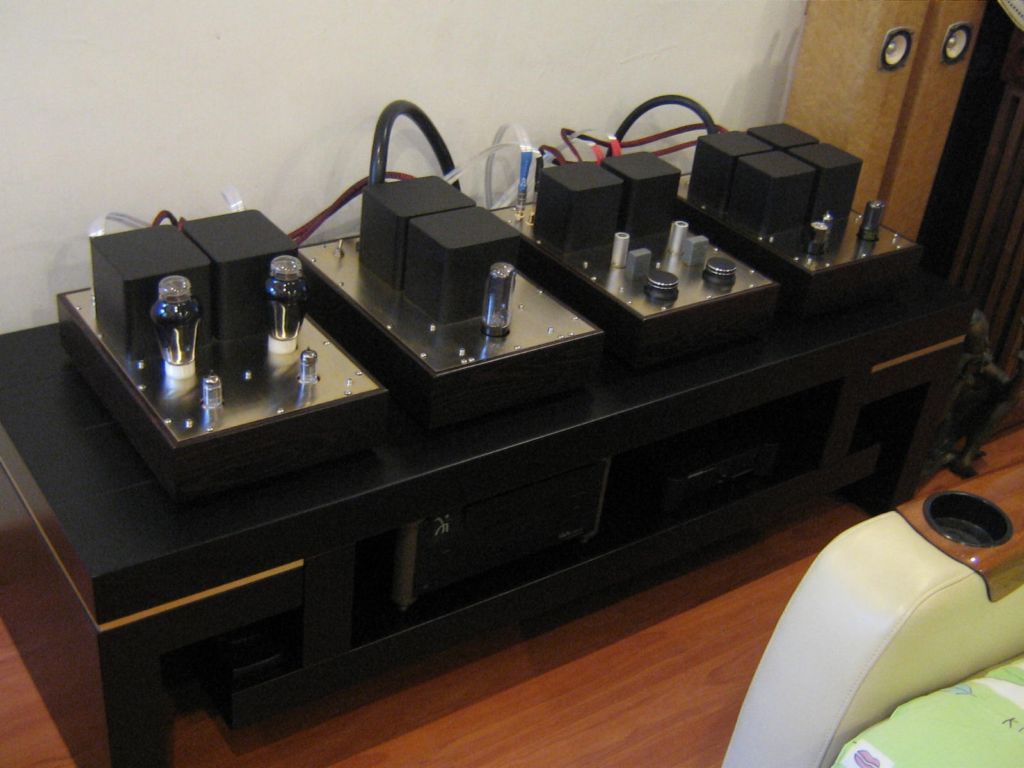 This is the full amplification chain to drive Lee audio system, audio setup. Why is it in four separate chassis's? Because, they are direct heated triode single ended vacuum tube power amplifier with tube rectified power supply in a separate chassis; tube preamplifier with tube rectified power supply in a separate chassis! This is what I called luxury! The power tubes are the premium Shuguang Zhenpin (曙光珍品) series as well, the treasure tubes.
Go to Shuguang Zhenpin page
Have a look at these nice Shuguang Zhenpin candies!
Okay, that wraps up what I've on Lee audio system, audio setup. It has been quite some time since I visited his setup. I hope to have the chance to go there again in near future.
---
Return from Lee Audio System to Audio Systems
Return from Lee Audio System to DIY Audio Guide
---