801A

Let's talk about tube 210, 10, 10Y, and 801A, or VT-62 for this time. I've been very fascinated by thoriated tungsten filament type of tube for all this while! The warm bring glow looks really stunning on any audio system.
This 210 / 10 / 10Y / 801A / VT62 tube is a 3 electrode (triode), high vacuum tube suitable for use as an audio-frequency amplifier. The 10 tube is developed by RCA in 1924, which is an improved UV202 power tube, named as UX-210. This tube was very welcomed by the radio users and a lot of the major tube manufacturers followed with their own UX210 tubes.
This tube is later named as tube 10 in 1930's. The difference between UX210 is, the original tube has grey plate and the latter has black plate. With this as base, RCA developed the very famous UX250 tube in 1927.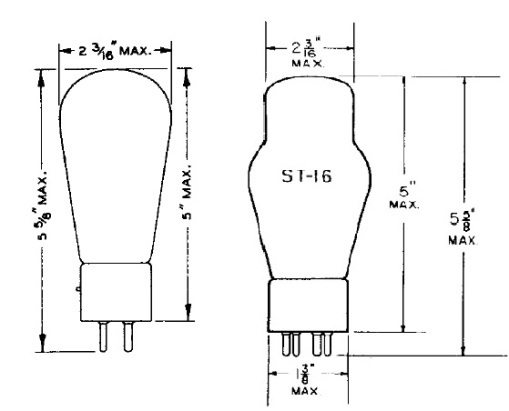 The filament voltage is 7.5V with current rating of 1.25A. When used in audio frequency amplification, this tube can produce about 1.6W of output power. The sound of this tube is extremely good. It is very linear across the audio frequency spectrum, with very low coloration. The soundstage is wide with very good harmonics and detail.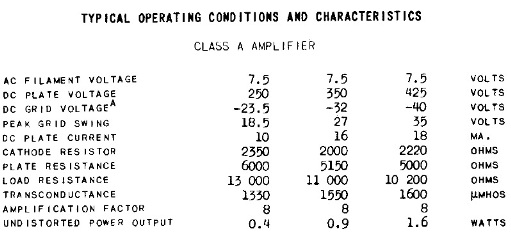 As the output power is only 1.6W, it is best matched to drive high efficiency speakers. There are quite a number of followers that used it in pre-amplifier / line stage as well and it produced really wonderful sound. Even the famous Western Electric produced this tube. The numbering used by Western Electric is different though. WE used VT-25 as the tube number.
The 10 tube was later improved and named as 10Y. The original balloon / globe shape is changed to the ST-16 coke bottle tube. The filament was strengthened to spring type and the support section upgraded mica and ceramic. The maximum plate dissipation is increased to from 12W to 16W, and yet the sound is still as good as the predecessor.
On the other hand, VT-25A was later produced by WE to replace the VT-25. It is not a direct substitute though. WE VT-25A uses oxide coated filament and it has a larger plate than the WE VT-25 with up-rated power, using a 7V filament carrying 1.2A of current. WE VT-25A has 2 types of bases as well, Bakelite and ceramic. The WE VT-25A plate material is mixed with a small percentage of gold, and therefore it is much pricier than the standard 10Y. According to some, the performance is better, but rarer.
The 10Y tube is further improved to become the very famous 801A or VT-62 vacuum tube. It still uses the ST-16 coke bottle envelope with additional mica and ceramic insulation, in addition to the thicker plate. The maximum plate dissipation is increased to 20W. With the improved 801A, it can generate output of 6W in class A2!
The 801A that is produced in 1940's, which is the golden era of American vacuum tube production, sounded the best compared to mid 1960's generation. The 801A is made to last (very) long too, with very good durability.
This tube is different compared to the 2A3 / 45 / 6B4G / 300B. If one uses a standard traditional amplifier design methodology on this tube, ignoring the unique electrical characteristics of the tube, they would probably end in failure or bad / mediocre sound.
Sound ratings
Hytron (1930's): transparent, extremely detailed, involving, musical, sweet and seductive; best among the few tubes tested. The way to identify this tube is it has small round mica with a semi circle metal plate to support the mica plate.
Sylvania (1940's): very HIFI yet natural tube, involving and posh character, full with excitement; resolution and detail are excellent, a marriage between new and old school style.
Hytron (1940's): truthful, rich in harmonics, slightly recessed imaging, highly involving; resolution and detail are exceptional, very musical tube.
RCA (1940's): grayish plate, sound is reserved and slightly bland; free of any glare, emphasis and brightness; resolution and detail are slightly better.
Hytron, made for WE (1960's): mediocre, & flat; resolution and detail are just normal, no big deal; this tube is less bright (what a pity!) as the gap exposing the filament is much smaller.
Alright, that's it for now. If you've more insight or details on these tubes, do feedback to us and we shall include it here! Let's look at the 10, 10Y & 801A tube characteristics and specifications in the next article!
10/801A Output Transformers. Click here to get to know more about the 10/801A output transformers.
10/801A vacuum tube applications. Click here to get to know more about the 10/801A vacuum tube applications.
7/27/2011: 10/801A amplifier - class A2 design.
Ken 7/12/2011
---
Return from DIY Audio Guide / Electronic Components / 801A to DIY Audio Guide / Electronic Components
Return from DIY Audio Guide / Electronics Components / 801A to DIY Audio Guide