Rod Stewart Soulbook
Rod Stewart Soulbook listening thoughts - As he has one of the most distinctive husky vocals, I have come to recall distinctly when local radio stations were repeatedly airing Rod Stewart's number one "Da Ya Think I'm Sexy?" I did not even understand the meaning of "sexy" back then as probably I had yet to enter puberty period [blush] hahhah
back in 1978, long forgotten vocal?
Rod Stewart published Soulbook which is a collection of relatively old popular Souls. Contained in there are only cover versions which Stewart interprets without hint of vocal affectation. Stewart essentially remains as himself, reiterating his unique musical identity which has spanned over decades of musical journey! To me, most solo tracks just fair but I must say that the duets do very good jobs way beyond complementary roles. The duet offerings are truly mesmerizing which must be revisited from time to time if not to be missed thereafter.
Track 1- It's the Same Old Song appears much like a refresher of our long forgotten vocal, it is the most distinctively husky yet articulate vocal of all. This is not my liking, never a dislike either. In any case, please click on here to refresh your memory!
To be convinced, check out some more:
Track 3- You Make Me Feel Brand New is the first duet track which I like much. Click here.
Track 6- Let It Be Me (with Jennifer Hudson).
Track 7- Rainy Night in Georgia.
Track 12- If You Don't Know Me By Now.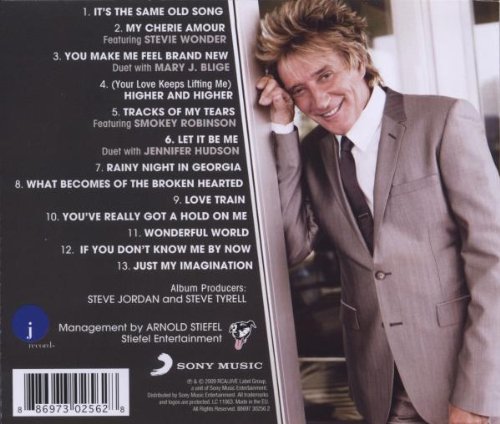 These were the top-hit Souls at the respective times. Perhaps they explain why Rod Stewart said: "This is the album I have waited my whole life to record." Da Ya think so?
Heart Heart Heart!
What do you think of this album?
Do you have this album too? Tell us what you think!
---
Return from DIY Audio Guide / Music / Rod Stewart Soulbook to DIY Audio Guide / Music
Return from DIY Audio Guide / Music / Rod Stewart Soulbook to DIY Audio Guide