Pete Seeger At 89
Pete Seeger At 89
"Guantanamera, Guajira Guantanamera
Guantanamera... ... ...Guajira Guantanamera... "
This familiarly sounding chorus is found in "The Weavers- Reunion at The Carnegie Hall 1963" and I am sure that it requires no more brief, let alone introduction / review. What about the narrative part:
"I am a truthful man from this land of palm trees<
Before dying I want to share these poems of my... … "
You have spotted it much earlier than this, I must expect and what about "Ramblin' Boy"? Each track throws a soundstage which could well extend, as if, beyond the neighborhood of your farthest neighbors! His vocal is very warm, gentle and mellow yet beefy and articulate with flesh/blood and emotions clearly felt deep in his throat.
More importantly the overwhelming enthusiasm is much perceived in his vocal expressions. He is no one other than PETE SEEGER!!! But, but, wait a minute, wait... I am introducing Pete Seeger at 89 which is a relatively recent release i.e. 2008, recognizing that my only other album was released back in 1963.
Ok ok, this is it!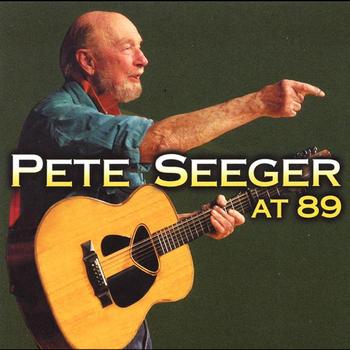 This album was published by Appleseed Records that is an independent, idealistic and internationally distributed record label devoted to releasing socially conscious contemporary, folk and roots music by a wide array of established and lesser-known musicians..."
At 89, Pete is still creative and interested as he still creates and finds interests in things around him especially of environmentalism. Which means one is creative if he continues to create and provided he is interested, everything is interesting!
There are 32 tracks in this album; many are short ones though some are of "ordinary lengths". Vocal of Pete, of his guests and of course together with his narratives collectively make this an interesting album. From the talking passages, one may perceive luscious musicality naturally underlying, no one would likely challenge this claim recognizing that his throat has given birth to millions of musical notes during the past many decades; his vocal is truly like a well seasoned cello fiddling musically.
Much worthy mention, the lyrics are very meaningful and honest reflection of life. Pete also has shown ever burning spirit in his propaganda to environmentalism. Check out the lyrics yourself! http://www.lyricsmania.com/pete_seeger_lyrics.html.
The gist contained demand innocent musical soul to appreciate yet deliberate HIFI-abilities to unveil. Fetch a copy home to listen for yourself as Pete has been devoting his lifetime to music production. Hurry up! Before you grab a copy of this album, Pete has released another i.e. Tomorrow's Children.
How could you be slower? As a nonagenarian going at such rate, I see Pete Seeger as Helluva Colossus!
Author: Heart Hear The Art!
---
Return from DIY Audio Guide / Software / Pete Seeger At 89 to DIY Audio Guide
Return from DIY Audio Guide / Software / Pete Seeger At 89 to DIY Audio Guide / Software
---