Live At Massey Hall by Neil Young
Live At Massey Hall by Neil Young
Neil Young (NY) was totally new to me when a veteran audiophile friend "staged" an introduction of the prolific artistry captured in the album titled Live at Massey Hall 1971 (LMH). It is a very intimate evening of self-accompanying concert with either single acoustic guitar or piano. I made no mistake, Neil, himself and Young throughout the concert which took place in Massey Hall as the album title has so spelt out.
NY is a Canadian singer-songwriter who was a 25-year-young man back then and LMH was recorded ~40 years ago. Not sure what exact genres NY sings, but upon consultation with my friendly walking music-dictionary, apparently LMH only showcases the very soft side of NY.
1st track in LMH kicks off very promising and crisply steely guitar is strumming away. Oh yeah, this has caught and kept my interest with NY's music and certainly the urge to continue till the CD stops by itself. NY's has high pitched vocal which appears youthfully and energetically fresh and enthusiastic. NY's music captured in LMH generates some kind of suction power for just anyone to look forward to the next following musical note, I confidently guess.
While I have found no special mention as tracks 1- 3 run through, I do enjoy NY's vocal very much accompanied by his skillful guitar. Each time I spin this album, I look forward to appreciating the very next musical note be it interpreted by NY's vocal or his strings or piano. As the intense musicality is echoing in my mind whenever I listen, NY strikes the next note thus the self-renewing urge for me to "chase" on, on and on...
As LMH progresses to Track 4, at the hit of just the very 1st piano note, oh GOD, how on earth could there be such romantically sounding piano with beguiling tonality! Many a time, I seriously doubt my likings being more inclined to music or sound, haha! (In any way, who cares if we like music or sound?) Apparently NY also plays piano very well to compliment his own singing. The piano notes decay gracefully into the air rendering it highly musical ambience, notes at the midrange are very comfortable to listen to and the nice-textured low notes of grand piano may call on our emotions at ease!
Track 5 reverts to NY's skillful guitar coming up with very hearty tempo, in fact I may term it as rather anticipating with highly rhythmic bass notes punctuated with pauses at times, which are just musically meaningful. For those who are not familiar with Dylan's stuff, Track 5- Helpless sounds little like the tune of Knocking on Heaven's Door.
Track 7- A Man Needs a Maid/Heart of Gold Suite sounds interesting being it made of two different songs. Must you audition to believe it? Youtube: A Man Needs a Maid / Heart of Gold Suite.
Friends, might as well you click on this too to check on Track 5- Helpless . But oops... much regrets, you just have to pick up LMH, found no Youtube.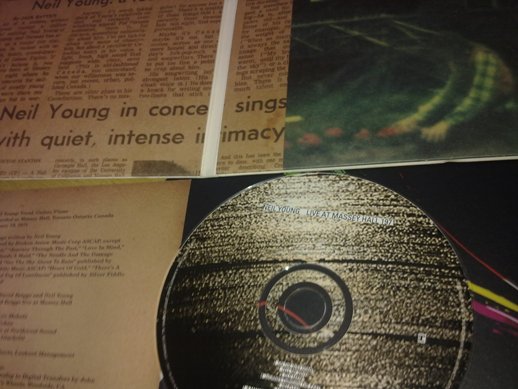 Well well well... More than an hour of high pitched vocal only accompanied by either guitar or piano, but no, my ears are never tired. To appreciate LMH, probably you could conversely imagine how monotonous could it be had NY not performed extremely well. Without any doubt, NY have truly charged up every single air molecule in Massey Hall making each second of the concert enjoyable!!! Care to recall who other artists did well with single instrument throughout whole concerts without any backup at all, whether instrument or vocal backup.
No time to elaborate more, enough said, after all I love LMH essentially in its entirety.
Use your HEART to HEAR THE ART!
What do you think of this album?
Do you have this album too? Tell us what you think!
What Other Visitors Have Said
Click below to see contributions from other visitors to this page...

Voodoo Child

Not actually a fan of Niel Young, however one of his song caught my attention when Kurt Cobain (1967 - 1994) committed suicide. In his suicide note there's …
@V!G

Care to recall who other artists did well with single instrument throughout whole concerts without any backup at all, whether instrument or vocal backup. …
Great!

I knew Neil Young from the Woodstock days(1969/1970) of Crosby, Still, Nash and Young group! See Wiki...... http://en.wikipedia.org/wiki/Crosby,_Stills,_Nash_%26_Young …
---
Return from DIY Audio Guide / Music / Neil Young Live At Massey Hall to DIY Audio Guide
Return from DIY Audio Guide / Music / Neil Young Live At Massey Hall to DIY Audio Guide / Software