KLIAV 2011 LS3/5A
Let's have a look at the KLIAV 2011 LS3/5A loudspeakers!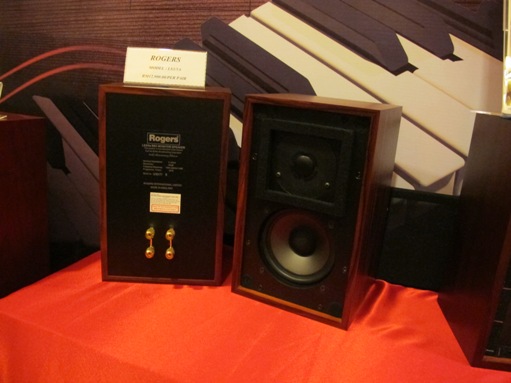 Rogers LS3/5a 60th Anniversary edition.
Rogers LS3/5a 65th Anniversary Loudspeaker
Rogers LS3/5A (65th) with AB1 bass extender.
The LS3/5A is one of the most famous small and compact monitors of HIFI history! It is originally developed for the BBC (British Broadcasting Corporation). Rogers is one of the earliest licensees who has been appointed by BBC to manufacture LS3/5A, since early 70s; and it is one singular most important speakers (perhaps to a lesser extend, JR149) that helped launched Rogers in the limelight of top monitor speakers manufacturer in UK.
It is conceivable that Rogers would use LS3/5A to mark their anniversary in business, hence the 60th and 65th Anniversary Edition released not so long ago, but they are on static display of local dealer's show booth – too bad!
The AB1 is a subwoofer system designed for use with the LS3/5A. It increases the low frequency performance and extended it to as low as 55Hz. It has a high pass network crossovers built-in which cut off frequency band below 120Hz on LS3/5A. Henceforth, as a combo, they presented an easier load for the amplifier with increased sensitivity.
Some basic data for the LS3/5A:
System type: two-way infinite baffle (closed box)
Frequency response: 70Hz – 20kHz +/- 3dB
Bass / midrange driver: 138mm
Tweeter: 19mm
Sensitivity: 83dB for 2.83V @ 1m
Nominal impedance: 11 Ohm
Some basic data for the AB1:
System type: single way
Frequency response: 55Hz – 120Hz +/- 3dB
Bass / midrange driver: 125mm
Sensitivity: 99dBA S.P.L.
Nominal impedance: 8 Ohm
A shoot-out between the new and old LS3/5A, and the 60th & 65th anniversary models would be cool. I doubt it would happen or can be published publicly as nobody would be buying the new LS3/5A then if the results favor the old LS3/5A.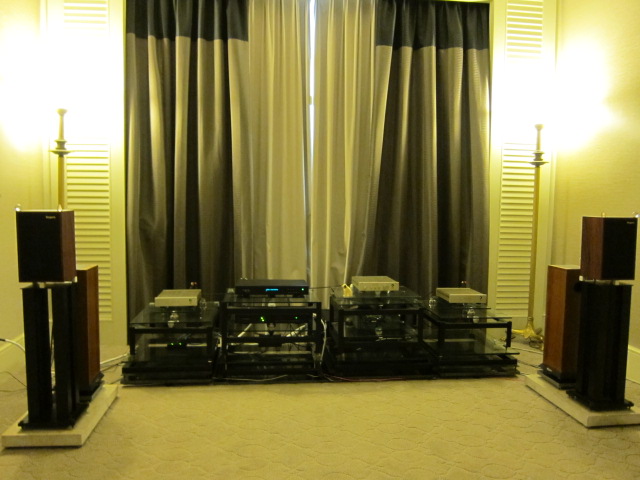 You should know where I'm heading after giving an introduction about the LS3/5A & AB1 loudspeakers – KLIAV 2011 LS3/5A setup by Jo KI, powered by FM Acoustics pre and power amplifiers. Jo's system has evolved since last year's show. The vintage tube gears are gone, replaced by the famous Bryston for the front end and FM Acoustics amplification equipment.
The room is very tidy and has a warm and cozy feeling to it. I like it!
Loudspeakers: Rogers LS3/5A 60th Anniversary Edition
DAC: Bryston BDA-I External DAC
Player: Bryston BDP-I Digital Player
Preamp: FM Acoustics – Resolution Series FM 155
Power amp: FM Acoustics – Resolution Series FM 108 mono (1st pair in Malaysia)
Racks: locally made (Tong Lee Company)
The system took a big step forward compared to last year. The sound is open, relaxe & musical, accurate with fine scaling in terms of sizes and proportion of vocals and instruments, and with dynamic capabilities in amplitude, range and rise/fall when called for by the music. It reminds me of a polite gentleman but with plenty of reserves to be unleashed underneath the nice mannered, perhaps like James Bond 007?
Since this is not its original residing place of the systems, I shall not rate it conclusively here with due consideration the limited time for setting up the system in an unfamiliar hotel room environment. I hope to pay Jo KI a visit in near future with Wikin, and perhaps Damien too if he has the time.
Let's look at the KLIAV 2011 LS3/5A setup in detail. Pay special attention to the tweaks! You might learn a thing or two from there!
This is the KI method of placement with the LS3/5A mounted on a separate stands with AB1 spaced at some distance behind it. This is the Mark II with the AB-1's port facing towards the back of LS3/5A. Take note of the 2 crystals on top of the LS3/5A , the shape of geodesic dome on outer edge and Cleopatra needle shaped crystals on the inner front edge of the speakers. Perhaps those of you who are having square edged speakers cabinet, and system with high enough resolution, should experiment with this and report what are each doing to the sound?
Jo KI also have self devised some very interesting speaker and stand interface; the square white matter beneath the speakers in 3 configuration is intriguing, and he said this is his experiment and a work in progress exploring the best interface material and size for LS3/5A!
Jo deployed no toe in with both channels fired in parallel manner speaker placement method. Both speakers spanned wide across the width of the hotel room with barely 2'0" from side walls leaving ample space behind for a great soundstaging reproduction. The ambient retrieval, especially to those classical pieces, envelope the entire space.
The mains power cord, AOR-003 is literally new as Jo claimed which was made just 2 days before the show and only installed into the system the night before the show opened. It still needs some time to run in and settle down evident in the sound had indeed become freer and open on the last day of the show.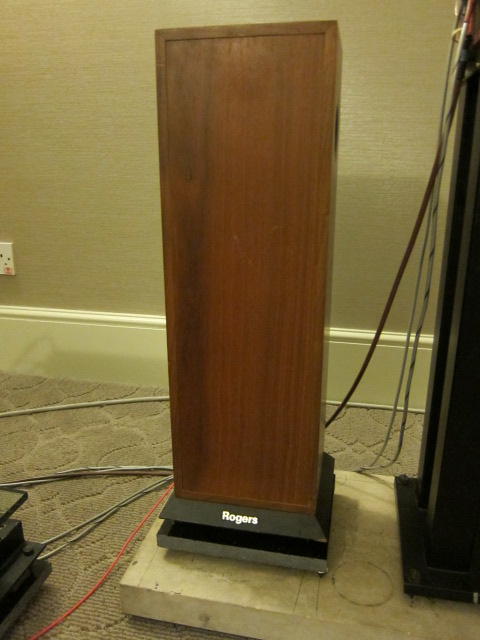 The AB1 extender placement – take a look at the marble slab – there are markings with exact measurements for the AB1 placement. It is resting on a granite slab too with cones on top and bottom on the slab. The de-coupling of sound vibration between LS3/5A and AB-1 is well handled. The raising of AB-1 is also well calculated so that the pot of AB-1 soundwaves assume least disturbances to those of LS3/5A, and together, they do not marred the near-point source effect of LS3/5A character of a small monitor speakers.
FM155 pre's support is : Finite Element ceramic cones – glass – Gourment cones – glass – metal cones – rack.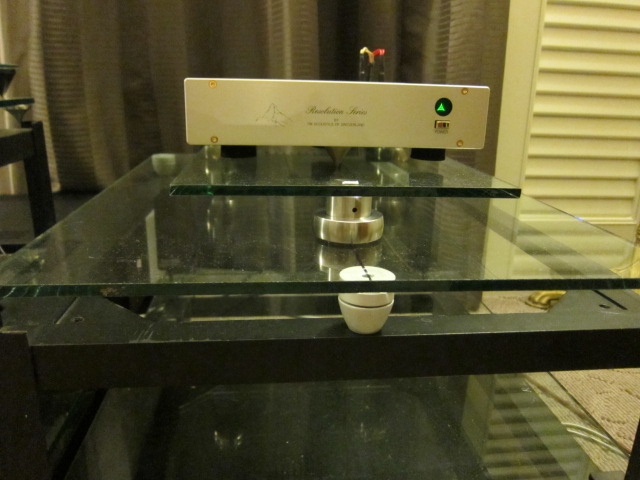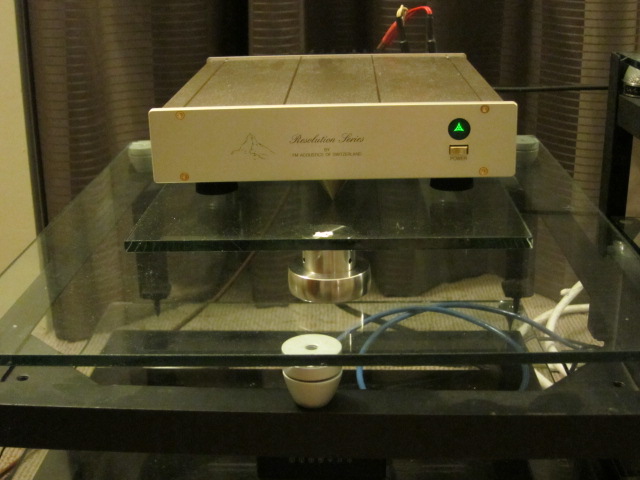 FM108's supports are: brass cones – glass – Finite Element PUC stainless steel support – glass – Finite Element ceramic cones – rack.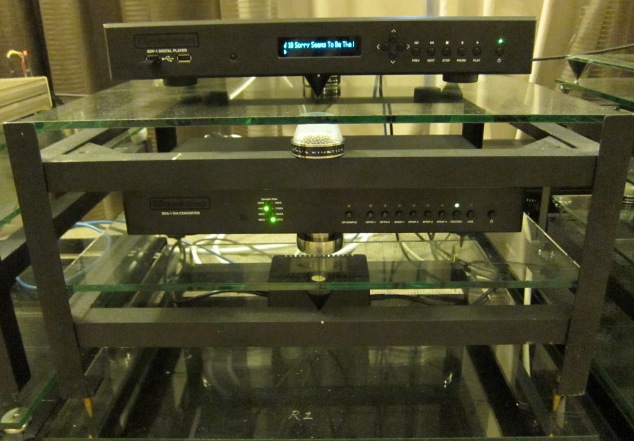 Bryston BDA-I(bottom): Finite Element PUC cones – glass – Gourment metal cones – rack.
Bryston BDP-I (top): Gourment metal cones – glass – Wavekinetics Resonator – rack.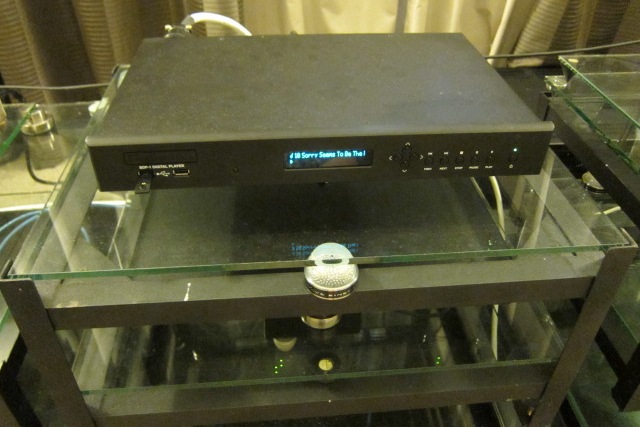 Another look at the BDP-I and BDA-I support.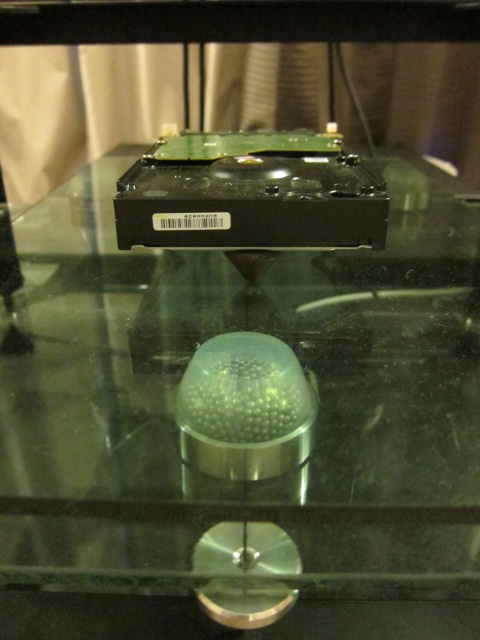 Even the naked "external" 1TB hard disc that stores the music files is isolated well. It has a dedicated external supply powering it. Jo finds that dedicated power supply gives the most satisfactory sonic performance. It even bettered his SSD (solid state drive, with the caveat that the SSD is driven with power via the USB cable linked to the Bryston BDP-I).
By the way, Jo is still at exploration stage and the results here are by no mean absolute and conclusive.
HDD: ceramic cones – glass – Wavekinetics Resonators – glass – stainless steel cones – rack.
According to Jo, the digital player and HDD have to be "floated" with soft medium like sorbothane or gel type of supports on the second layer to sound the best.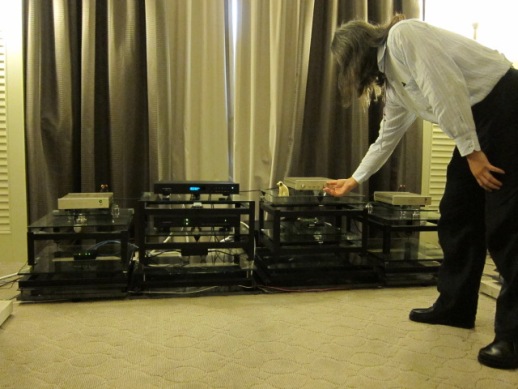 Alright, let's listen to some music with THE MAN serving you in the show! Thank you Jo KI for sharing such a musical system in the show! Hat's off!
That's it on the KLIAV 2011 LS3/5A loudspeaker coverage!
Ken
Heard of this setup in the show?
Tell us how you think about this setup!
What Other Visitors Have Said
Click below to see contributions from other visitors to this page...

KLIAV 2011 LS3/5A - comments

I can say this setup sound was quite different from Jo's previous settings. The highs was less transparent/airy/extended/smooth and there was slight …
---
Return from DIY Audio Guide/HIFI Blog/ KLIAV 2011 LS3/5A to DIY Audio Guide
Return from DIY Audio Guide/HIFI Blog/ KLIAV 2011 LS3/5A to DIY Audio Guide / HIFI Blog