KingRex T20U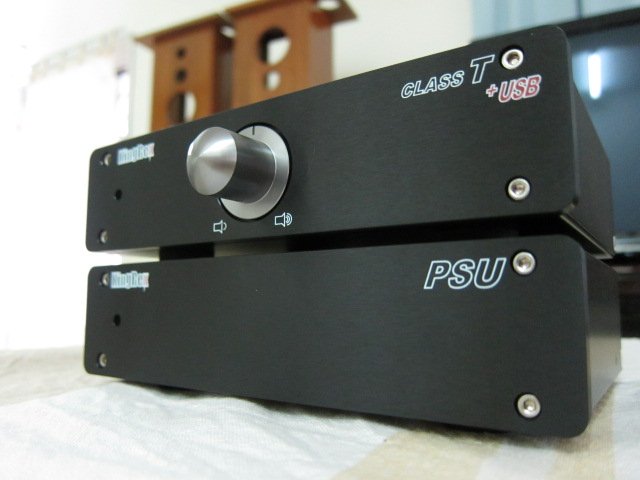 KingRex T20U! I just had tube amplifers shoot-out between DIY 6B4G, clone SunAudio 2A3 and the upgraded original SunAudio 2A3 amplifiers with Chin Foo when the KingRex T20U + PSU combo arrived for review a few days after that. When I first replaced and switched on the T20U + PSU, the sound is bland, uninvolving and lack of dynamic in comparison with the tube amplifiers that are rich in harmonics and dynamism.
This is not right! The Tripath TA2020 based amplifiers that I remembered is much better than what I heard or remembered. Anyhow, this is not the time for serious listening as Tripath based amplifiers need a long time for running in to sound the best. The system was left to play for a few more days for running-in before the review took place.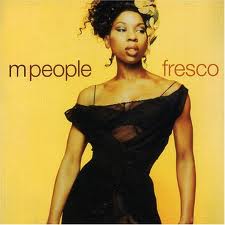 What's better than bass heavy music for running in? I've some drum tracks too but those were not pleasant to be re-played throughout the day! So I took out M People's "fresco" album and put it on repeat. Although this album was released more than 10 years ago, it is still quite fun playing this album on HIFI systems. The songs are nice and it gives me the party-feel that cheers me up!
When it clocked for about ~30 hours, I could already hear the changes that is going on the sound of the amplifier. I started serious listening after it is exercised for a healthy ~100 hours, about 2 weeks of constant running-in.
Before going into the details, there is one thing I do not like about Tripath based amplifiers – the turn on pop. I'm just annoyed and wonder when the tweeter or super tweeter would fail one day due to the constant surge abuse. The larger the input capacitor, the louder and scarier the pop would be. I would like to urge all Tripath based manufacturers to add a simple delay relay to mask out the turn on pop. Oh pretty please! I've encountered some that give me a shock when I first switch on the amplifier!
The KingRex T20U has this turn on pop too but is very minimal even on the 101dB/w/m Soul Superfly. This is really delightful! Kudos to KingRex for this!
There are several options on playing with the KingRex T20U. I would try to cover as much grounds as possible but I'm favoring or focusing the review with the dedicated PSU instead of with the inferior SMPS wall wart. It is not that the SMPS wall wart are very bad but the dedicated KingRex PSU just proved to be far superior and is highly recommended for KingRex T20U buyers.
KingRex T20U with SMPS
KingRex T20U with dedicated PSU
Analogue input
Digital input via USB
2 pairs of speakers are used interchangeably during the review – Tannoy System 800 and Zu Audio Soul Superfly. The Tannoy's match the Tripath based amplifiers really very well. The past experiences of EH Teoh's modified Sonic Impact with Tannoy DCC 3839 (15 inch dual concentric / coaxial driver!) in horn enclosure had deep impact on me that I still could vividly remember the deep bass with very clear sonic.
I could not try the Tannoy HPD 385 speaker as it was setup to require bi-amping with 2 stereo or 4-channel amplifier as I use active crossovers for splitting the high frequency and low frequency. The Zu Audio Soul Superfly was chosen due to the transparency and efficiency it has to honestly project what the source and amplification have to offer. The Soul Superfly only has a single capacitor to cross to the tweeter at 15 kHz. The bass driver is run full-ranged. The Soul Superfly did very well in differentiating the SunAudio 2A3, clone SA 2A3 and the DIY 6B4G SET. All the different characters are exposed like with using a magnifying glass!
The audition started with KingRex T20U + SMPS (wall-wart) with Tannoy System 800 that is a studio monitor. The KingRex T20U could drive the loudspeakers to insane SPL! The drive strength is beyond what the number (specification) suggests. Although the Tannoy System 800 is having an efficiency of 92dB/w/m into 8 Ohms, it still requires some juice to drive the 8" dual-concentric polypropylene driver. I've tried it with 2A3 and it did not do that well. I find I need something with higher power like the 300B amplifier https://www.diy-audio-guide.com/diy-300b-amplifier.html to let it shine.
To no surprise, the KingRex T20U did this pretty well. KingRex T20U drove the Tannoy System 800 with ease! Not only that, there is just magic between the Tannoy loudspeakers with Tripath based amplifiers. This combination sounded very balanced, with highs, mids and bass complimenting each other harmoniously.
As a whole, the presentation is very clean and gentleman at low to mid volume. Imaging, placement and size are very appropriate, stable with very good accuracy and depth. It might be too polite or clean for some though, like the peak limiter that is found in professional equipment is being turned on. I find that at slightly higher volume, things start to get alive! It likes to be pushed! It rocks at higher volume!
Although so, with M People's "Just For You" pounding heavily on the bass, I can feel that the amplifier is struggling slightly on the continuous bass notes. There are hints of harshness on the high frequency when the amplifier volume is pushed to the limit. With "Angel St" being played, the fast and frequent bass notes could not really catch up with the rhythm too, with the system panting for breath as some times. Some of the "Fresco" tracks are mixed with the instruments as if it is approaching at the very far end of the sound stage and that is honestly portrayed. There is still a sense of pushiness or not as relaxed sound.
Once the volume is adjusted to a 'sane' level, the symptoms are gone but the liveliness is gone too! We just can't have everything we want in life, can we?
When the dedicated KingRex PSU is used, things really got MUCH better! The stresses are all almost completely gone provided ones do not push it to the limit or use very low efficiency speakers. The sense of struggles is gone. High frequency harshness is tamed. Catching for breath symptoms are lesser! There slight fuzziness and harsh treble "edges" are removed, replaced with well behaving, accurate and pin point imaging with smooth or rounded edges. Bass definition, depth and extension gained significantly. The volume capability is highly increased and that adds a lot of enjoyment when playing at higher SPL where the amplifier is best sounding.
The rest of the review will be done with the KingRex PSU. With the U$190 price tag, it is definitely highly recommended.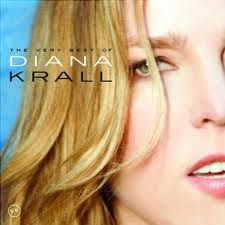 After experimenting with the drive strength of the KingRex T20U, I move on to try some other aspects, like for example the sound-staging capability, airiness, depth and such of the amplifier.
One thing that I noticed with Tripath based amplifiers is the high frequency extension. I've used a lot of tube amplifiers with high frequency that extends well over 20 kHz. Tripath based amplifiers tend to have earlier roll off compared to tube amplifiers or traditional class A / AB amplifiers. The highs are more restrained and shut-in.
One of the culprits could be the demodulating output filter. The loudspeaker impedance is a component of the demodulating output filter that determines the high frequency cut off. If the cut off is designed too close to audio band, premature roll off could happen. If the output filter is designed with 4 Ohm speaker in mind, then when 8 Ohm or 16 Ohm speakers are connected, then an even earlier roll off will happen. Inversely, if a lower than the designed impedance speaker is added, then the high frequency response will be better. The Tang Band based full range driver speakers with 4 Ohm impedance and a rising high frequency response should be a very good match.
Switching the amplifiers between the KingRex T20U and the SunAudio 2A3 / 6B4G single ended triode amplifier proved the case. The high frequency of the tube amplifiers are extended beyond the listening limit and the KingRex T20U sounded slightly attenuated or too well behaved (don't expect the sparkly tingly highs here). On the other hand, the tube amplifiers could not touch the KingRex T20U in terms of dynamism and timing.
It should be and is really fun to play dance, pop and club music with this setup! Due to this nature, poor recordings or those with high frequency emphasis on these genres of music will sound really good with the harshness removed to focus on the essence of the songs. On the other hand, acoustics and rock music lovers might find it too polite and not exciting enough.
Diana's "Frim Fram Sauce" & "East of the Sun" sounded lively and fast paced, which is fun to listen to with this amplifier. The double bass has very good control, a solid body without much over-bloating effects heard on some low power solid amplifiers. The simple Jazz pieces with a few music instruments have really good holographic sound stage.
I wouldn't say the KingRex T20U to be neutral. It is more biased towards the more warm and tonality vacuum tube like richness but yet not overly mushy thick and slow.
Western Electric cables were swapped out with AudioQuest cables and the Tannoy System 800 is swapped with the Zu Audio Soul Superfly. Everything improved significantly. The KingRex T20U loved the additional high frequency and transparency brought in by the AudioQuest cables instead of the colored WE cables that focus more on the body and midrange frequencies. The ultra high efficiency of the speakers of 101dB/w/m is highly welcomed by the low power KingRex T20U amplifier!
Re-listening to the setup with the same songs showed the positive effects – drums and high hats have more resolution, making the differentiation between instruments more distinct and real. Volume capability increased several folds with more room filling sound and authority. It is friendlier to rock music now as compared to before the change.
Vocals and pianos that sounded a bit muffled or veiled due to the lack of high frequency extension are now more up front and forward. Diana's contralto (might not be the appropriate term used but that's the closest I could know) vocals sounded lush and breathy, comparable to a single ended tube amplifier. All the minor details are uncovered now and it is a joy to listen to the setup.
The sound is now more relaxed and at ease, with an expansive stage width and depth. I do not feel the bottoming out of the amplifier on demanding music. The harmonics are easily perceived. It is not as romantic and sweet as a 2A3 single ended amplifier but is considered "tubey" for a solid state amplifier.
That proved that system matching is very important. Don't judge the book by its' "partnering equipment". Try to understand the underlying characteristics and match it with complementary signatures and one shall gain superior sound with his setup.
There is still a slight veil to the sound no matter what is being done to the system compared to the clarity and directness I get with a 6B4G SET amplifier that is without any coupling capacitor in the signal chain. You can't have best of both worlds. Of course, that is perceived when a direct side by side comparison is done. It is not obvious if it is auditioned alone.
USB performance
External DACs were used when trying with the KingRex T20U that is Cirrus CS-4398 based Super Pro DAC and the non-oversampling (NOS), Monica 3 DAC on dedicated 12V heavily filtered PSU. Switching to the integrated DAC and shooting out between them might not be a fair apple to apple comparison but we shall see. For the additional of U$25, I'm very happy to get that for the additional flexibility of connecting it to a PC. For those without a USB interface to their DAC, this would be a joyful addition for such a small amount.
Foobar2000 is used together with 16 bit 44 kHz .WAV files from ripped CDs. Setting up the Foobar with the KingRex T20U is swift and trouble free. There are no drivers needed to get this to work.
The combination of the BB PCM2707 and Tripath is a pleasant one. The SuperPro is detailed and clear where as the Monica 3 DAC is warm and mellow. The KingRex T20U integrated USB DAC falls somewhere in between. It has less digital signature, similar to NOS 1541 DAC but with a more detailed and clearer sound that comes from high resolution DACs like the CS4398 DAC chip.
Summary
It has always been fun using Tripath based amplifier, so is the same with KingRex T20U and PSU. For the entry level price but with over the price performance, it is really a great and recommended buy when compared with the famous well known brands.
With some careful matching of partnering equipment, it should be a giant killer! If it can be improved with several modifications, it would have even more potential! Due to the more warm nature and reserved highs of the amplifier, brighter, more dynamic and transparent partners are recommended.
One thing to take note is that it loves to be pushed to higher volume for optimal performance. This is perhaps the First Watt syndrome where single ended triode amplifiers excel at the first few Watts where as some others will start to shine at higher power, such as the KingRex T20U.
With all those considered and implemented, you will get an all rounder that can do vocals and rock at a very competitive price! We definitely can't get this performance with conventional amplifier at the same price point! Maybe one needs to pay 3-4x to get the same level of sonic return!
Also, a great thank you to Christine Wu for her swift responses and help provided during the review.
Next
What's next? I wished to compare it with Diyparadise Charlize but there is no volume control installed on the unit I borrowed. I'll need to get a preamp into the combination before the shoot out! Stay tuned for more in later announcement. I need to get a preamp before I can do an apple to apple comparison.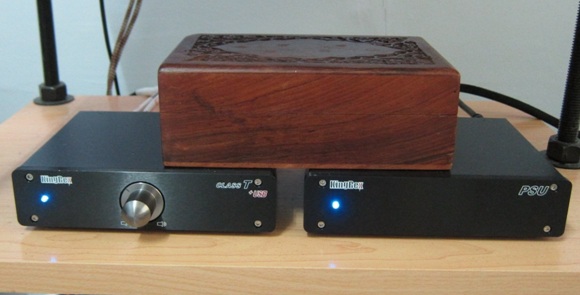 This is Diyparadise Charlize in nice wooden jewelry box on top of the KingRex combo.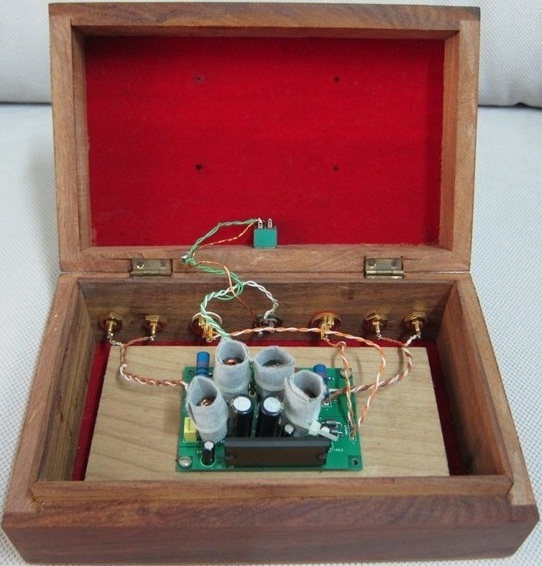 What's inside this box? A heavily modified Diyparadise Charlize! I'll post more in the next article. This page is long enough!
Competition:
It is a tough world out there. KingRex is facing stiff competitions from Topping, Dayton, Sure Electronics, Lepai (PartsExpress) and such. The build quality of the competitors are good as well, with some priced lower than what KingRex is offering. Still, it is a feared contender to mainstream HIFI electronics where it offers much more that the price depicts if compared.
MSRP $249 T20U $190 PSU
Ken
KingRex T20U + PSU review Part 1
---
What do you think of this post?
Do you have the same thoughts? Share it!
Return from DIY Audio Guide/HIFI Blog/ KingRex T20U to DIY Audio Guide
Return from DIY Audio Guide/HIFI Blog/ KingRex T20U to DIY Audio Guide HIFI Blog