Full Range Speaker Driver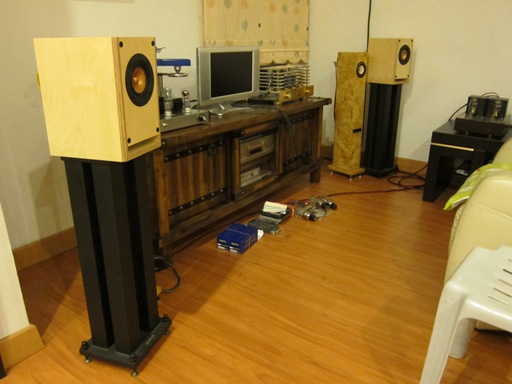 Here are Lee's full range speaker driver at diy-audio-guide.com again!
We just love to have listening sessions at other people's stereo system and enjoying the different sound characteristics and HIFI equipment others have. Having listening sessions at user's home means we're listening to the system at its best, or at its natural habitat instead of a dealer showroom. We can really evaluate the sound properly instead of short-changing the capability of the HIFI gears.
In early Nov 2011, we (all 5 of us, Damien, HC Loh, KC, Chin Foo and Ken) had this opportunity to gather around to visit one of the full range single driver fans, Lee's audio setup in Sungai Petani, Kedah. He has imported Mark Audio full range single drivers recently and all of us are eager to give that a try.
Lee's previous audio setup details could be found here: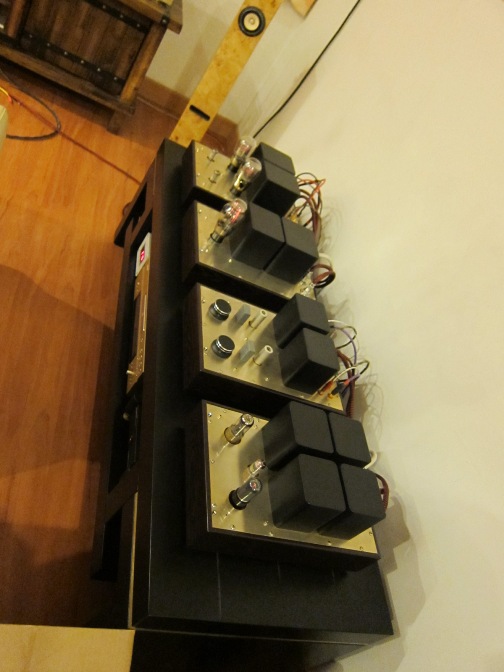 Lee has a few sets of amplifiers, and one of them is the 4 piece pre & power amplifiers with 3A5 tube for pre and 2A3 tube for power.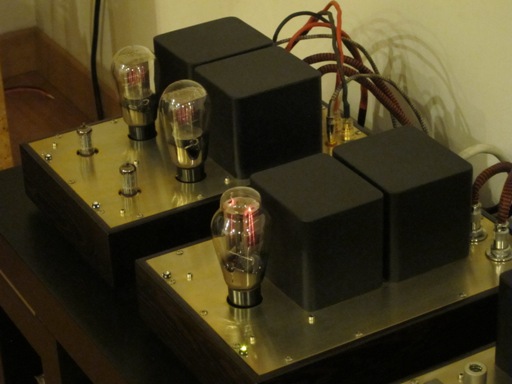 Here is the close up view of the 2A3 direct heated triode with 274 rectifier in single ended mode. Both the tubes are with mesh plate. You can see the nicely lit filament inside the plate. I asked Lee, are you selling this amp? He said no. They're for own use only, muahaha!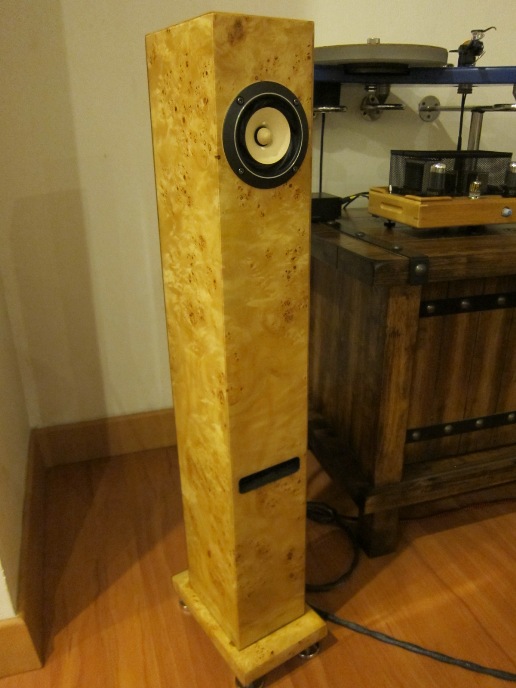 This is the famous Fostex FE88ESR full range single driver in very nicely lacquered cabinet made in China. The transparent lacquer is almost 2-3mm thick! The workmanship is first rate! It was Damien and my favorite during our last visit. We're fans of full range speaker driver!
It didn't sound as good this round though. Lee told us that he changed the internal Western Electric wiring due to heavy oxidation and things no longer sounded the same since anymore. There are some distortions heard during some passages of music that is not persistent.
Lee was changing the CD to share with us another wonderful music collection of his. He wished to show us the track where the distortion was heard. Tubes and amplifiers were swapped during the session to root-cause the source of the distortion.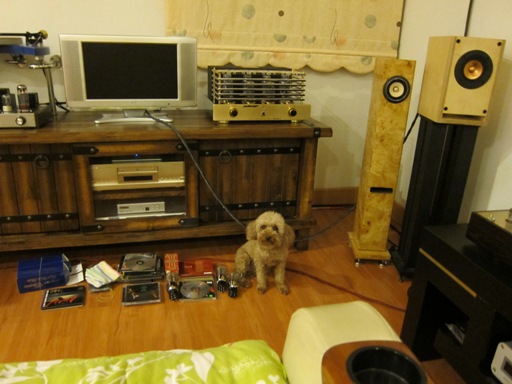 Lee's poodle joined the auditioning crowd. It is very cute and shy! Another pair of full range single driver speaker joined the team – the Mark Audio bookshelf speaker on a clone Foundation speaker sound.
Lee is the owner of The Art Chamber. He has offered some special prices for the www.diy-audio-guide.com readers. We shall be publishing the offer prices in a follow up publication in very, very near term. Keep your fingers crossed!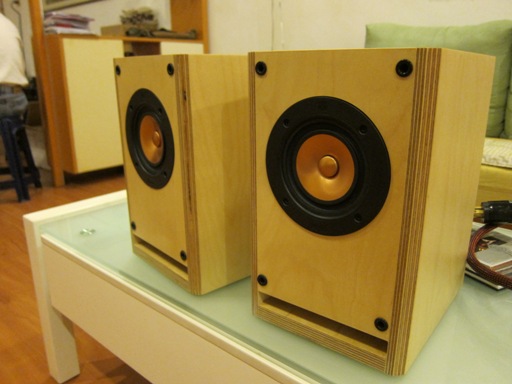 This is a close-up picture of the Mark Audio full range speaker driver in a Birch plywood cabinet. Birch plywood is one of the best materials for speaker cabinets. The finishing is very nice and a knuckle knock showed that the cabinet is solid and rigid. I wonder if I could get one done for my future projects.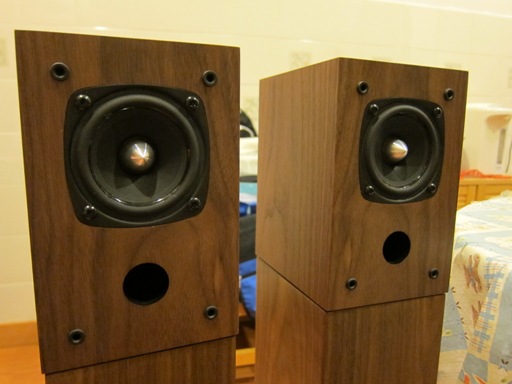 This is another pair of full range speaker driver in Lee's stereo system. This pair of speakers uses Tang-band full range speaker driver. There is a cult following of the Tangband speaker driver, if you do not know. Do a Google search and you'd find many projects with this driver. Lee is letting this pair go to make space for his new products. If you're interested, email us.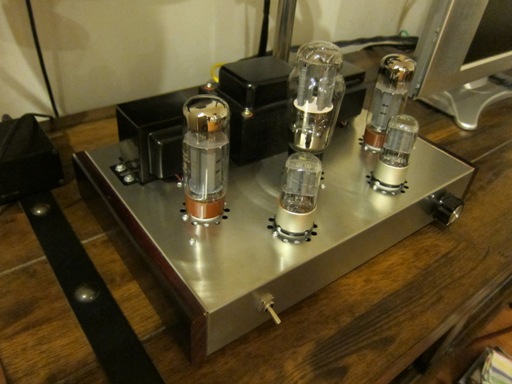 This is one of the integrated tube amplifiers that Lee plans to sell in the market under his brand name Art Chamber. This amplifier uses EL34 with 12W of output power.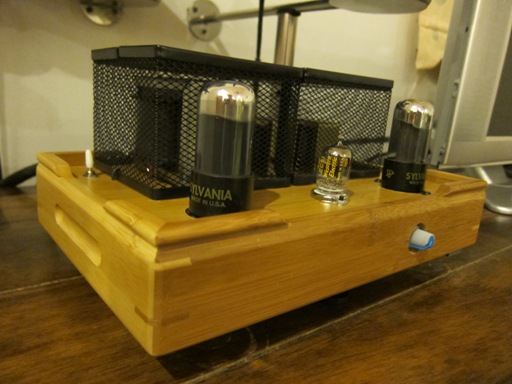 This is the 6V6GT single ended integrated tube amplifier. The chassis uses bamboo as the material and I can say that it is very unique and it is green! Bamboo is one of the fastest growing plants and it can be commercially used in many products. I've seen chopping boards made by bamboo.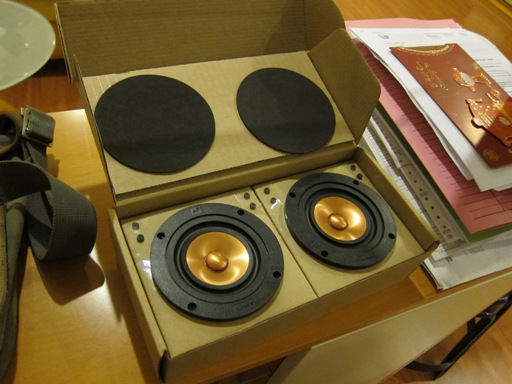 More pictures of Mark Audio full range speaker driver. This version has the gold / copper look. There is another color – aluminum too for users to choose from. Prices are very reasonable looking at the on the shelf good quality speaker drivers nowadays.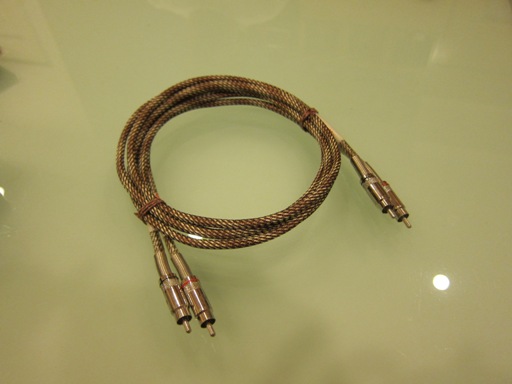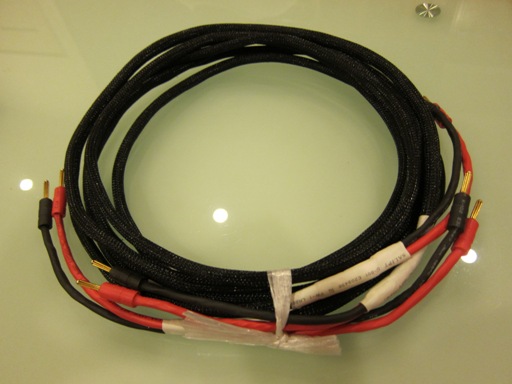 Please guess what cables are these? The RCA / interconnect and the speaker cables are made using Western Electric cloth covered cables. I've purchased a pair of the speaker cables to try out. Lee gave me a pair of interconnect for trial too. We shall report out the quality of these cables after we tested it on our reference systems.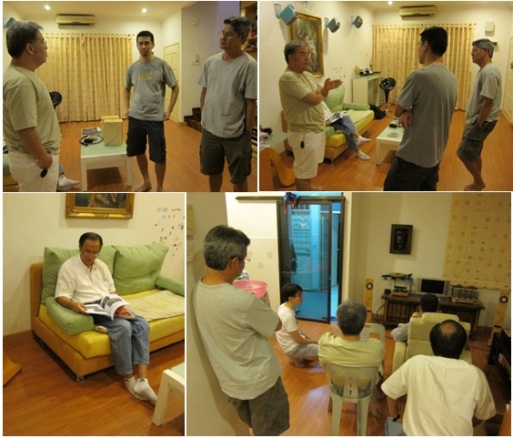 Here are some pictures of the listening session as well as the discussions on HIFI, music, pressing and software purchase over internet, not forgetting KC having a peaceful moment to himself while we were busy checking out the systems.
Ken
Return from Full Range Speaker Driver to Speakers
Return from Full Range Speaker Drivers to DIY Audio Guide
---