DIY Speaker
Where is a good place to find DIY speaker projects? Let me show you!
Parts Express has been my favorite DIY store since many years ago that I can't even remember when my 1st purchase was and what did I buy.
Other than getting parts audio, video and speaker building components from Parts Express, there is one other thing that I like about them – their DIY projects page! I find it very education and sometimes the projects really give me hints on what my next project would be!
Click on any image in this page to go to Parts Express website!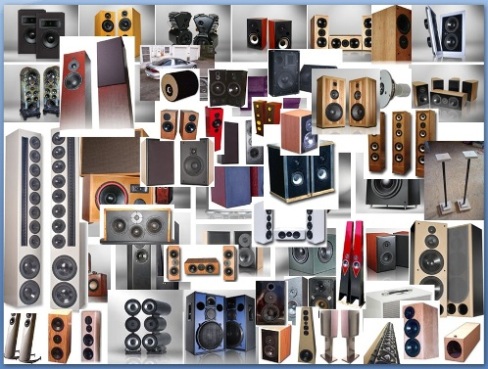 Their DIY project pages are very detailed, with drawings, great pictures, construction instructions, schematics and finished product images! If you like their DIY projects; just get the components direct from them! All the components are available from their shop. They sell enclosures as well!
Their projects cover:
Bookshelf speakers
Mini tower speakers
Unique form factor speakers – engine shape, vintage slot machine look, "alien technology"
HIFI sofa
In-wall speakers
5.1 speakers system
Single full range driver speaker
Subwoofers
Horn speakers
Pool side speakers
Flat / stealth speakers
Gigantic line arrays
Garage speakers
Center speakers
Car speakers
Voigt pipes
Speaker stand
MTM speakers
Tube speakers
Etc
The projects that I find interesting are:
Knuckleheads – speaker that looks like engine
Seismic Sofa – rock your sofa
3CR-Ti – single full range driver in a dual chamber reflex (3CR)
Sphericles – sphere shape speakers
RS1200 / Triska Sub / The Drake – subwoofers, oh yeah!
Tritrix – transmission line speaker
Totally Tubular – tube speakers
Colossi / Kuze3201 – line array speaker
Boogieman – stealth subwoofer
The Pipes – pipe speaker
How do you access the DIY projects? Just follow the simple steps below:
Click on the image below to go to Parts Express
Click on Speaker Building on the menu tab
Click on Speaker Projects on the bottom right
Step 1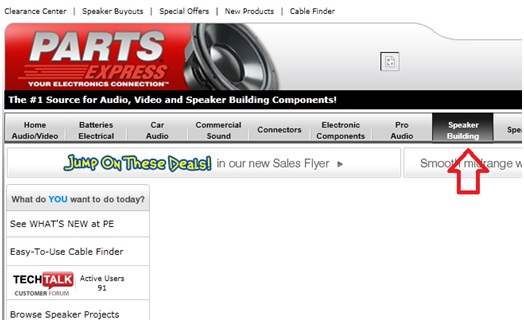 Step 2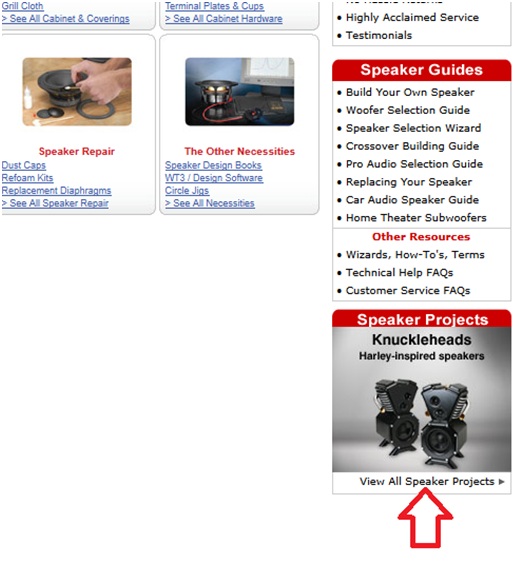 This will get you occupied for quite some time! The DIY project pages would be good summer or winter reading materials! Enjoy the read!
Ken 7/27/2011
---
Return from DIY Audio Guide / DIY Speakers / Parts Express DIY Projects to DIY Audio Guide / Electronic Components
Return from DIY Audio Guide / DIY Speakers / Parts Express DIY Projects to DIY Audio Guide
---