6V6GT Push Pull Amplifier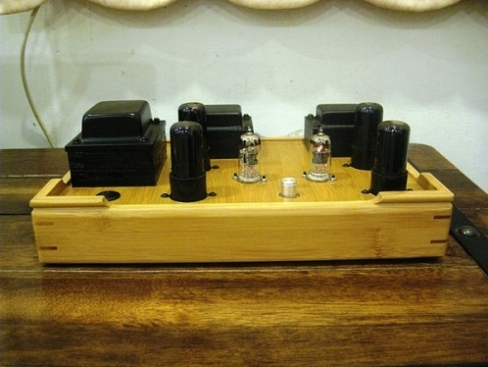 Art Chamber Zephyr6P 6P6P / 6V6GT push pull amplifier. As usual, the chassis is made by bamboo. It is simple yet elegant. The amplifier is all made by point to point wiring. The circuit is using 6F2 (ECF82) triode pentode as gain stage and phase splitter. The power tube is using the beam tetrode 6P6P or 6V6GT in push pull configuration.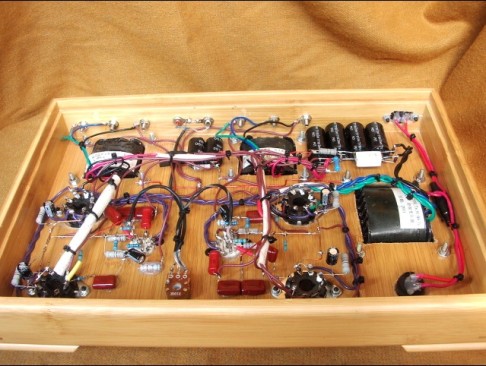 Output power is around 12W. The tube that comes with the amplifier is a Shuguang 6F2 (ECF82 direct substitute) and 2 pairs of Shuguang 6P6P (6V6GT direct substitute). It has 4 Ohm and 8 Ohm outputs.
Driving power of Zephyr6P amplifier is quite good. It can drive a considerable range of bookshelf or floor standing speakers. This is a common traits of push pull amplifier since the output transformer is air-gapless making it capable of having higher primary inductance, converting it to have better driving capability (bass response) compared to air-gapped output transformers.
Zephyr6P amplifier uses a 120W power transformer and 2 output transformers, with high quality silicon steel from reputable industrial vendor. Reliability and stability of the transformers are ensured.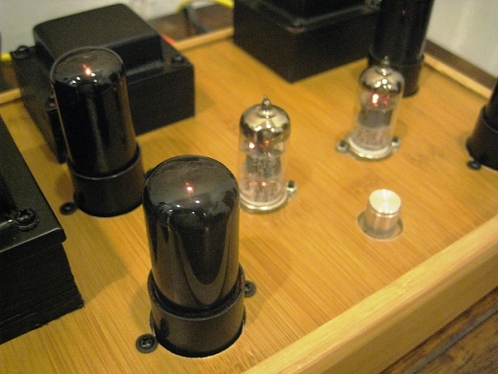 Zephyr6P amplifier is the big brother of Zephyr6SE. On the left and right corner, are the 6P6P (6V6GT) power tubes in push pull operation. The tubes in the middle are 6F2 (ECF82). The bamboo chassis tone and the vacuum tube lighting matched nicely. Having the amplifier on at night is a very nice sight. The metal knob in the middle is the volume control.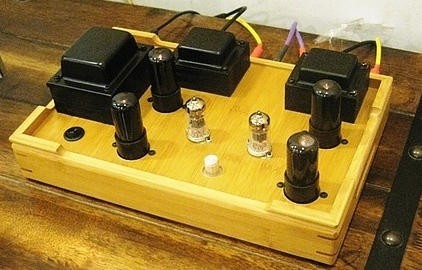 Above picture: Zephyr6P amplifier in testing phase. The stock tubes are Shuguang. One is in for a treat if the tubes are swapped with NOS tubes.
Mods opportunity:
Upgrade power supply, bypass and coupling capacitors.
Change volume pot to stepped attenuator or higher quality Alps pots.
Constant current source load for pre-amp stage.
Constant current sink for power stage.
Art Chamber Zehpyr6P amplifier – U$339.
The Art Chamber
---
---
What do you think of this post?
Do you have the same thoughts? Share it!
---
Return from DIY Audio Guide / The Art Chamber / Zephyr6P 6V6GT Push Pull amplifier to DIY Audio Guide
Return from DIY Audio Guide / The Art Chamber / Zephyr6P 6V6GT Push Pull Amplifier to DIY Audio Guide / The Art Chamber