Art Chamber Zephyr6SE 6V6GT amplifier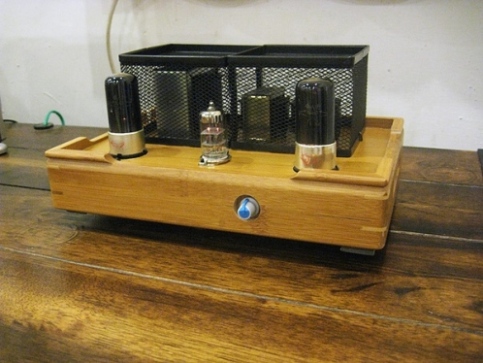 Art Chamber Zephyr6SE 6V6GT amplifier. The chassis is made of bamboo with black mesh wire shield for the transformers. It is simple yet artfully crafted amplifier. The wirings are very neatly laid point-to-point connection.
Tubes:
Driver: 6N3 (WE396A, 2C51 or 5670 equivalent)
Power: 6P6P (6V6GT equivalent)
Input impedance: 100k Ohm
Output: 4 Ohm and 8 Ohm
Dimensions: 28cm width, 19cm depth, 13cm height
Power: 5W per channel, single ended class A
5W output may not seem much but the driving capability is more that meets the eye. The finishing and build are quite astonishing considering the price of this amplifier. The bamboo chassis brings a warm touch to the amplifier.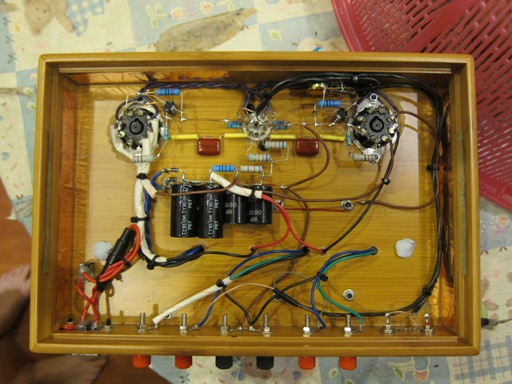 Components usage is quite standard. If one can consider modifications, the sound could be improved substantially to make it a more promising machine. Wiring is super neat and that makes upgrading, servicing, troubleshooting work very simple.
Modifications suggestions: coupling capacitor, B+ power supply capacitor, cathode bypass capacitor, volume control, and connectors.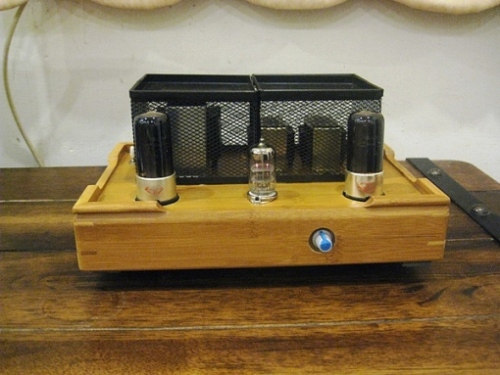 Due to the fact that this is an entry level low power tube amplifier, care has to be taken when pairing it with loudspeakers. Higher efficiency (>87dB/w/m), full range, single driver loudspeakers are commended.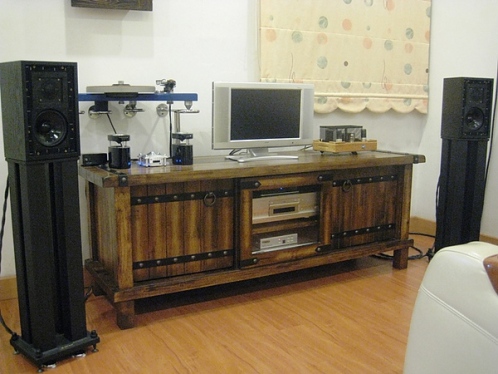 The 1st trial was with LS3/5a to test the extreme capability of the Zephyr6SE. The mid-highs are surprisingly crisp and rosy, but the bass suffered and muted. This is a 5W amplifier after all. Driving a 82.5dB LS3/5a speaker is really asking for too much.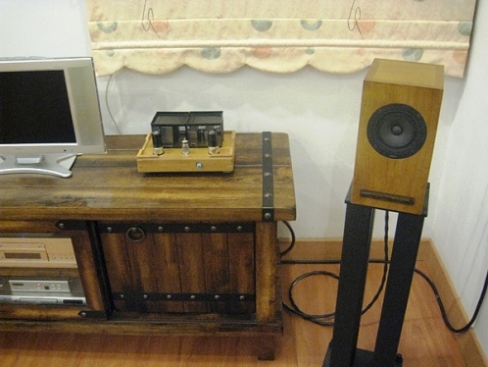 Mark Audio CHP70-G2 bookshelf speaker with rubber wood cabinet was next. Efficiency is 87dB/w/m. The situation was much better than with the heavily mismatched LS3/5a.
Soundstage is more opened. Bass quality and quantity are much better. The sound is more full-bodied. With the volume at 12 o'clock, the sound pressure level is already very loud. With Apple Iphone UE SPL software, the SPL was measured to be 96dB at 6ft away of the speaker.
Due to the tube amplifier output power and medium efficiency of the speakers, the bass extension and body are rather limited. For simple music and background music use, it is still quite sufficient.
Lastly, Zephyr6SE 6V6GT amplifier is paired with a pair of 5" full range speaker drivers with 91dB/w/m efficiency, made by Art Chamber. This is a much better matched system. The sound is direct, detailed and full bodied. Airiness is there, layering is distinct, and the feel is really there when playing with Joss Stone album. It is quite soothing to listen to jazz pieces with this combination.
When we try with orchestral music, the weaknesses are revealed. Scale is diminished, sound tends to get noisy, and layering is less clear. Perhaps we're asking for too much from the 5W entry level machine. To get perfect score with this price point is rather impossible.
During the listening sessions, NOS tubes were swapped with the Chinese tubes. Both tonality and sound changed to the positive side and it is highly recommended after you got this amplifier.
Zephyr6SE 6V6GT amplifier US$199
Please contact Art Chamber, Lee with the form below if you've any questions about this product.
Art Chamber
---
---
What do you think of this post?
Do you have the same thoughts? Share it!
---
Return from DIY Audio Guide / The Art Chamber / Zephyr6SE 6V6GT amplifier to DIY Audio Guide
Return from DIY Audio Guide / The Art Chamber / Zephyr6SE 6V6GT Amplifier to DIY Audio Guide / The Art Chamber